News Desk
Six of the Best

Recently there has been a tangible growing desire amongst companies involved in producing low energy, healthy, eco friendly buildings to distinguish themselves from the floods of companies looking to brand their products and services as green- often with no real basis for so doing. Increasingly, companies are applying for membership of ÉASCA out of their desire to show their credentials. Construct Ireland spoke to the six newest approved ÉASCA members, companies involved in everything from eco-friendly timber frame homes and natural insulation, to energy rating, eco friendly cement and a variety of other sustainable building products.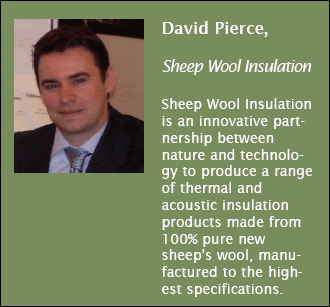 Why is your company right for membership of ÉASCA?

Sheep Wool Insulation was formed to bring the most effective, healthy and sustainable insulation products to the market. Our raw material is pure new sheep's wool, a natural fibre which has kept man warm (and cool) for thousands of years. As an organic material, wool has characteristics such as safety, breathability and resistance to fire that are very desirable in modern methods of construction. Wool has also the greatest sustainable characteristics, as it is renewable, reusable, recyclable and ultimately biodegradable. We believe our company and products exemplify the requirements of membership of ÉASCA.

Why did you apply for membership of ÉASCA?

Since its beginning, our company has strongly promoted sustainable materials and practices to the Irish construction market. We understand that to impact the wider construction market and government bodies, a unified organisation would have a much greater effect and would benefit all members involved. It is our belief that ÉASCA will significantly raise awareness of sustainable construction and lead to changes in both building practices and governmental policy. We want to be a part of this change and actively bring about better construction methods for the benefit of this and future generations.

What benefits do you see to being an approved member?

Membership of ÉASCA will distinguish our company from those who have poor environmental products and practices. It is becoming all too common for ecologically harmful products to be "greenwashed" with slick marketing and false claims. With ÉASCA's comprehensive application process, such companies will not be admitted and this will set an eco-standard in which people can trust. ÉASCA will also bring together many like-minded individuals who will learn to further improve their own businesses through sharing information and organised events.

Why do you think there's a need for a body like ÉASCA?

There is a strong need for an active, focused and dedicated body to represent those providing true sustainable alternatives to the construction market. ÉASCA's independence from both the public and private sector will ensure no vested interests and create trust for its members and those it assists. ÉASCA will also provide a single point of contact and a forum for discussion to spread awareness and knowledge of new ideas.

What efforts are you making to reduce your own environmental impact?

We continuously review our carbon footprint and environmental impact and change our product and practices accordingly. Our recent aim has been to minimise embodied energy within our thermal insulation products, which we have achieved by compressing our products up to 3:1 during transport. We ask customers to return product packaging which we reuse to reduce waste. We recycle waste from our office and warehouse, such as paper, of which we recycle 100%.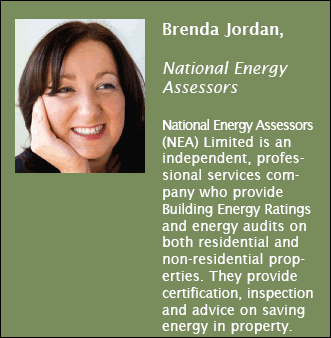 Why is your company right for membership of ÉASCA?

NEA are eco-aware, not eco-warriors; we specialise in advising our clients about low cost options that make a significant difference to energy consumption. NEA focus on reducing the need for energy, which is augmented by renewable sources of energy. NEA's independence and national footprint enable us to provide the most comprehensive service on the market today.

Why did NEA apply for membership of ÉASCA?

We choose to join ÉASCA in order to work, and be associated with, like-minded people who actively promote & service sustainable energy efficient building in Ireland. NEA proactively supports architects, builders & developers in delivering improved performance in building design in order to increase a building's energy rating. In addition, by providing Building Energy Rating (BER) Certificates, NEA is appropriately positioned to raise awareness regarding the benefits of sustainable design and increasing their building's energy rating.

What benefits do you see to being a member of ÉASCA?

NEA view ÉASCA membership as recognition of our credentials and it is a brand that we are happy to be associated with. In addition, our membership has meant that we have experienced benefits in terms of information sharing with other ÉASCA members and we're proud to be part of a group that positively influence the construction industry!

Why do you think there is a need for a body like ÉASCA?

ÉASCA has the potential to constructively influence and provide advice to the construction sector. The independence of an organisation like ÉASCA ensures that the focus is on viable sustainable solutions. In addition, ÉASCA's screening of potential members means that clients can have confidence in NEA and the other organisations that have become ÉASCA members.

What efforts are you making to reduce your own environmental impact?

Our stationary is printed on recycled paper and we routinely recycle appropriate waste. We recently moved to a new office and are undertaking investment into viable sustainable products in order to ensure that we work in an energy-efficient environment - we already do the simplistic low and no-cost practices such as ensuring that the printer is programmed to energy-saving mode when not in use. On a personal level, I have reduced my dependence on the car and planes where practical. My home is fitted with Phillips energy-saving light-bulbs and I practice the advice we provide on our website (www.nea.ie) - it makes a difference and saves on bills!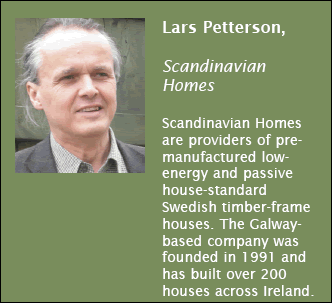 Why do your houses qualify for ÉASCA membership?

In today's world we are all exposed to a multitude of new chemicals and materials almost everywhere. We at Scandinavian Homes believe it is beneficial to reduce the complexity and amount of chemicals that we expose ourselves to in the home. All materials emit particles to the surrounding air. What we can do as producers of houses is to use building materials that are non-complex, and to provide ventilation-systems to keep the particle-count in the air low. We use pure timber and plaster boards made of gypsum and paper, Masonite boards made of wood fibres and natural cellulose binders. We supply non-complex surface treatment such as linseed oil and tung-tree oil and natural pigments.

We use simple passive construction methods and systems that are easily understood and maintained in the future by whoever lives in the house. Simple insulation does not wear out. Our design philosophy entails investing more in passive structures than in complex systems. Our Passive Houses need no heating system - this saves resources both at time of building and indefinitely by eliminating energy for heating of the house. We use triple glazed low emission shield, argon gas filled windows. We favour a relatively simple ventilation / heat recovery system as opposed to more complex arrangements. Installation of a heat pump or pellet burner can be a good addition to a Scandinavian Homes house, but we think that you must have the basic house right first.

What would you view as a positive outcome of ÉASCA membership and do you think that an organised attempt to raise awareness about sustainable building in Ireland is desirable?

We welcome and support the emergence of organisations such as ÉASCA and Cultivate. For a long time we felt lonely in Ireland trying to increase the awareness of the necessity to drastically reduce the waste of energy in poorly built houses. We started in 1990 with our low-energy houses. It was a very slow start with lots of opposition to this way of thinking, especially from the Irish authorities. Fortunately for us, at that time, the country had no building regulations, so nobody actively managed to stop us. We are grateful to all of our 210 house customers - strong individuals with with independent minds made it possible in the early years. We hope ÉASCA can help making a broader public more aware of the necessity to drastically reduce the wastage of energy.

Your houses are known for their low environmental impact. Do you think that Irish house buyers are beginning to see this as desirable?

The peak oil scenario is looming over everybody - whether or not global climate change is anthropogenic. It is reasonable to say, despite the latest UN report, that the science is still not convincing one way or the other. It still makes good sense to save fossil fuels and reduce pollution. A quote from our first brochure printed back in 1994: "What right does this generation of people in Europe and North America have to use up our planet's fossil resources for thoughtless heating of poorly built houses?"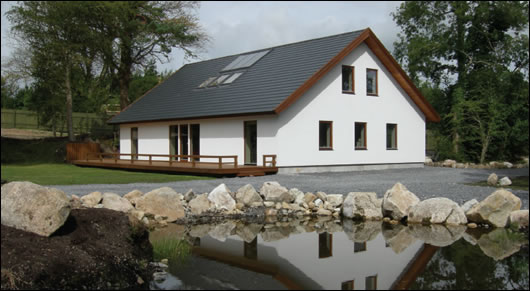 Ireland's first pre engineered Passive House, built by Scandinavian Homes in Moycullen in 2005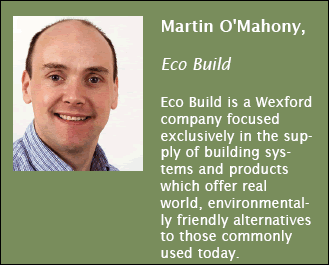 Why is your company right for membership of ÉASCA?

The aim of Eco Build is to improve the sustainability of construction and to improve the living environment of our customers' homes while contributing to a reduction in energy use and emissions from the construction process and from the home over its lifetime. This is achieved by providing a wide range of building products and systems all of which we believe can be categorised as sustainable and through this to also educate and inform the consumer and the public generally of the sustainable alternatives which are available when building, extending or renovating.

Why did you apply for membership of ÉASCA?

As Eco Build was formed specifically to support sustainable construction we feel that customers and other business can be left exposed in terms of a lack of regulation and standards in this area. We appreciate that ÉASCA is not a regulatory body but we do feel that membership of ÉASCA is an extremely valid peer review considering the quality of people who came together to form ÉASCA coupled with the standards for membership.

What benefits do you see to being an approved member?

We feel that our membership of ÉASCA would be of enormous benefit to us in terms of validating our efforts in promoting sustainable construction and to assure customers of our commitment to sustainability while allowing us opportunities for quality networking within this small but growing industry.
Why do you think there's a need for a body like ÉASCA?

ÉASCA is certainly needed as the area of sustainable building will be the driving force behind future growth in construction and is the last area without a national organization. It is the independence of ÉASCA which sets it apart from other professional bodies and organizations leaving it free of any agenda and with a clear mission to improve current and future building through the use of sustainable building practice.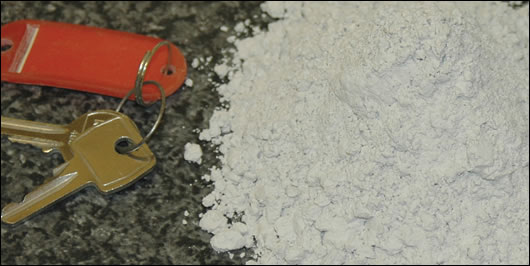 Eco cement or ground granulated blast slag (GGBS) is made from a by-product of the production of iron

Why is your company right for ÉASCA?

Daily, Ecocem reduce the CO2 emissions of the construction industry by over 1000 tonnes. Concrete made with Ecocem is stronger, more durable and therefore more sustainable than that which is made with ordinary cement.

Consequently, I feel Ecocem and ÉASCA are ideally suited to each other. It's important for us to support organisations such as ÉASCA, to raise the level of awareness around sustainable building. The solutions are already available in the market place and significant savings can be made, both in environmental and financial terms.

The founding members of ÉASCA, and now the organisation itself, are uniquely positioned to convey this message. We're looking forward to working with them closely in the future.

Why do you think there's a need for a body like ÉASCA?

For Ireland to achieve its Kyoto targets, huge changes are needed. As a substantial contributor to Ireland's economic success, the Construction Industry in Ireland must lead the way in implementing these changes. Highly energy efficient housing is an economical option and bodies like ÉASCA must ensure these options are recognised and utilised by anyone involved in construction.

What efforts are you making to reduce your own environmental impact?

In order to reduce our environmental impact we have implemented various energy saving initiatives. The Ecocem plant only ever runs at night (sales permitting) and never between the hours of 5 and 7. We've also installed lighter belt drives and elevators to reduce electricity consumption, which we can now monitor at all times via our new computer system.

Going forward, we are looking at the possibility of offsetting the remainder of our carbon footprint by investing in green technology by purchasing carbon credits.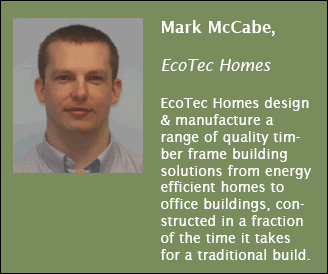 Why is your company right for membership of ÉASCA?

We at Eco Tec Homes Ltd are very aware of the impact our construction methods have on the environment. We can provide alternative materials which perform better and are also made from ecological technology. We are continually developing our product range and we see our membership of ÉASCA as recognition of our company policy.

Why did you apply for membership of ÉASCA?

We applied for membership of ÉASCA because we wish to build partnerships with other companies who are thinking the same way as ourselves. We can also form a network of companies, to provide solutions for the end user (Client). ÉASCA was the right organization to be involved with to achieve our objectives.

What benefits do you see to being an approved member?
Being an "approved" member will satisfy the customer that we are legitimate and focused on what we are doing. We will also have access to the vast knowledge from the other members, so we can educate the customer on sustainable methods & practices.

Why do you think there's a need for a body like ÉASCA?

There is great need for a body like ÉASCA, to promote sustainable building & educate the client/public that if we do not change our way of thinking now, we could be damaging our future generations. We can no longer carry on the way we are, so we must change. That change is possible with a body like ÉASCA.

What efforts are you making to reduce your own environmental impact?

We have recently been awarded BS8555 which is part of an environmental management system. The company seeks to achieve continual environmental improvement, to minimize waste, promote recycling, reduce energy consumption and where possible, prevent pollution to the environment.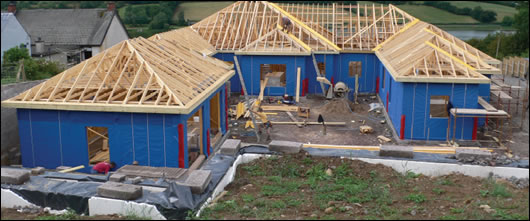 A 420m2 timber frame home being built by Ecotec in Dungannon, Co. Tyrone