John Hearne
A room with a view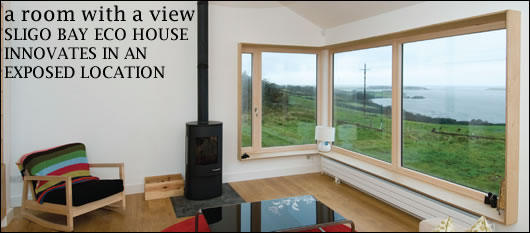 Nowhere demonstrates the need for a high-performance building envelope quite like a coastal site. John Hearne visited a cutting edge timber frame house overlooking Sligo Bay that was designed to achieve a highly insulated, air-tight and low embodied energy envelope whilst making the most of the spectacular vista.
A newly constructed house in Strandhill, Co Sligo will provide a rigorous testing ground for low energy design principles. Built on an elevated, exposed site overlooking Sligo Bay, winds coming in off the Atlantic can reach speeds of 50m/s, while during construction, external air temperatures plunged as low as -5°C.

"The challenge was threefold," says architect John Dorman. "To design a robust house that could weather the storms but would provide sheltered outdoor spaces, that would nestle into the hillside and respect this highly sensitive coastal location and that would maximise the stunning views across the bay." The end result was a highly insulated, air-tight house, where low embodied energy and natural materials are used extensively. The structure is tucked into the hillside, blending well with the surrounding cluster of houses and farm buildings, while carefully sized and located windows make the most of the views.
In setting out to build his first low-energy house, Dorman worked through a range of scenarios. "We looked at this as timber frame, we looked at poured concrete, we tried a whole load of things, using the DEAP software to see what sort of energy ratings we could get with different materials and technologies," he says. Working within budgetary and client preference constraints, Dorman set out to achieve a B1.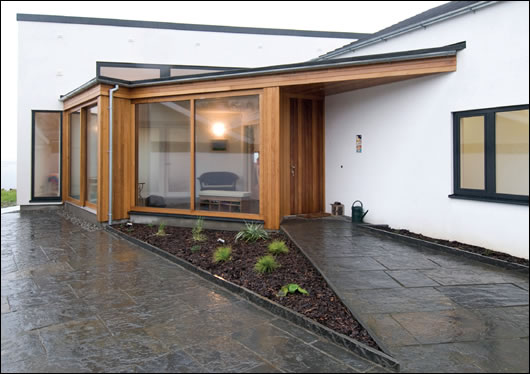 The two sections are connected by an entrance sunroom

He chose a highly insulated timber frame structure with an air-tightness membrane, an oil condensing boiler as the primary source of space heating and a bank of solar panels to cater for the bulk of domestic hot water needs. "Because we wanted low embodied energy, we shied away from concrete, but I've always had problems with the kind of timber frame that goes up in this country. Much of it has been developer-led; 100mm studs with mineral wool insulation. That was sold as the way forward, but there are an awful lot more steps to take than just 100mm studwork. This house has 200mm studs, and there's another layer of insulation inside that again. The other issue is all of those other timber frame houses in the country are brickwork on the outside. Here, we went for Aquapanel instead."

The house is designed to form the south facing section of an enclosed courtyard with its two cranked mono-pitched buildings connected by an entrance sunroom. "If I had taken the two halves of the house and brought them together, that would have been a much more efficient way of building the house," says Dorman. "It would have reduced my footprint. That would have dealt with the energy issues, but not with the other issues, because you're talking about more than just energy. You're talking about the quality of the house and the quality of the space that you're living in." Splaying out the design allowed the house to take full advantage of the views – Sligo Bay to the north and west, Benbulben to the north east, the Donegal Mountains to the north and Knocknarea to the south. To mitigate the diffused layout, Dorman built a sunroom in the cleft between the two sections of the house. This is an unheated space that sits outside the insulated envelope, but traps heat which can be dispersed into the main living areas as required. It is paved with dark Liscannor limestone flagstones to maximise the absorption of the sun's rays. In the main living area, which faces out to sea, the views are captured with long, narrow windows in order to minimise heat loss. In addition, the existing mix of trees on the site were left undisturbed, and these, together with the cluster of existing farm and dwelling houses provide further shelter. Dorman worked through a range of glazing options on DEAP to strike the right balance between securing the views and minimising glazed sections. "At one stage we even put a blank elevation here, looking out to sea just to look at what it would do to the rating," he says. Because the kitchen/living/dining room comprises the full block, Dorman was also able to incorporate windows at high level on the southern elevation, to take further advantage of passive solar gains.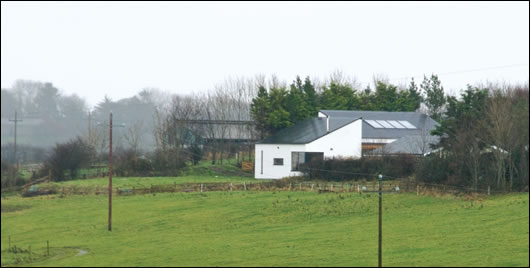 The house consists of two cranked mono-pitch buildings

In keeping with the low embodied energy imperative, a GGBS concrete slab provides the foundation. The timber frame, all FSC Scandinavian Sitka Spruce was built by Cygnum in Cork. Heber McMahon of the company says that design team provided a very high level of detail to the frame builders. "The kitchen/living/family room was fully vaulted. Its highest point was 5.5m tall, then along one side was glass at high level and we had to put in structural posts to help with the wind loadings. These posts support the whole thing and go from the ground to the top, and had to be inside the walls so they weren't seen. The architect had specific details that he wanted to see and didn't want to see." Extensive detailing was also provided to minimise cold bridging and facilitate air-tightness. "To get air-tightness right, you have to design it in from the first day," says McMahon. "So for example, where an external wall met an internal wall, we fitted a piece of the air-tightness membrane behind that, then where an internal wall met a roof section, we put a piece over the top of the internal wall, so you could get a full seal. These are areas that are sometimes forgotten about at design stage, and can then make things difficult during erection, but that didn't happen here." 300mm I-joists were used in roof sections, giving greater structural flexibility and facilitating a greater depth of insulation.

With a thermal conductivity of 0.036 W/m2K , 200mm of Warmcel 500 cellulose insulation was sprayed into the studs. Warmcel is little more than shredded newspaper, Adrian McGuire of Abbey Insulation explains. "Cellulose," he says, "is probably as eco friendly as you can get." The insulation spec runs like this: 220mm of Isover Metac mineral wool between the rafters, 150 mm of Paratorch PIR insulation in the flat roof sections. Floor insulation is a combination of 140mm Kingspan Thermafloor TF20 under-floor insulation, 30mm of TF20 edge insulation and 60mm of TF20 rising walls vertical insulation.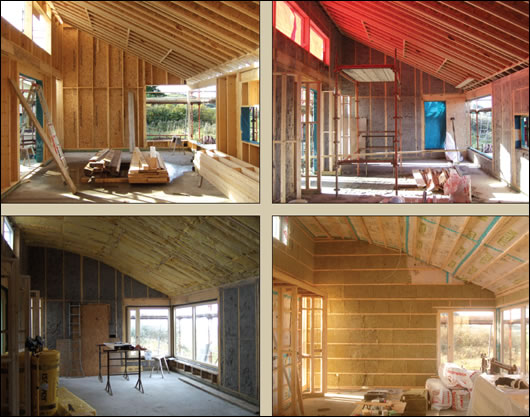 (clockwise from left) The construction of the kitchen/living/family room advances with 200mm deep timber stud work; cellulose insulation fitted between the studs; 220mm of mineral wool insulation between the rafters; and a counter battened service zone with mineral wool insulation inside the air-tight layer

The cold bridging detail is also worth mentioning. "Sometimes with timber frame, you'll find areas with multiple studs – four or five of them together," says Dorman. "Timber in itself is a cold bridge. It doesn't conduct like aluminium but it still is a cold bridge. That's the issue with so many timber frame houses that are constructed: you have your 100mm stud, you insulate and you put on your plasterboard, so every stud then is effectively a cold bridge." To counteract that, Dorman fixed 50mm by 50mm counter battens inside the wall and roof frame, and insulated these spaces with 50mm of Rockwool flexi. This strategy not only eliminated the cold bridge, it also provided a service cavity to protect the air-tightness membrane. Measures are also taken to ensure that the structural posts do not conduct heat to the outside, while a custom designed double frame at the windows also ensures that cold bridges are designed away. With the insulated service cavity in place, the overall U-value in the walls falls to 0.16 W/m2K. The other U-values run as follows. Pitched roof – 0.16 W/m2K. Flat roof – 0.13 W/m2K. Floor – 0.13 W/m2K.

Windows and doors come from Alpenland Fensterbau, a German manufacturer Dorman has used on other projects. "They're in a completely different league to anything I've seen here, in terms of the windows they produce and their whole attitude and attention to detail." The windows in Strandhill are aluclad, double glazed and triple sealed, with an average U-value of 1.48 W/m2K. "I had this debate with myself," says Dorman. "I want this project to be low embodied energy, and aluminium is high embodied energy, but because of the exposure of the site and the amount of maintenance that the windows would require externally I just felt on balance that it was worth going with the aluminium."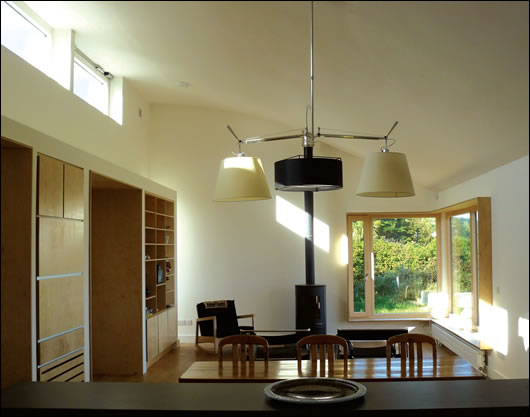 The Intello suite of products from Ecological Building Systems in Co Meath was used to create the air-tight layer on the warm side of the insulation. Project contractor Tommy Horan from Horan Building Services Ltd says that this was the first time he encountered the set of tapes and membranes used to create the sealed envelope. "The air-tightness was excellent," he says. "It took us a fortnight to do it because it was our first one, but to be honest, we really enjoyed doing it and it was a great success." Central to that success, he says, was the fact that Peter Smith of Ecological Building Systems visited the site to spend time with the construction team and talk them through installation, while the addition of a service cavity minimised the risk of puncturing the membrane. "All my sub contractors have been working for me for a long number of years and we would have a very good working relationship. They know that if damage is done, damage is reported – if there was a puncture or anything like that, they would all be very diligent about that."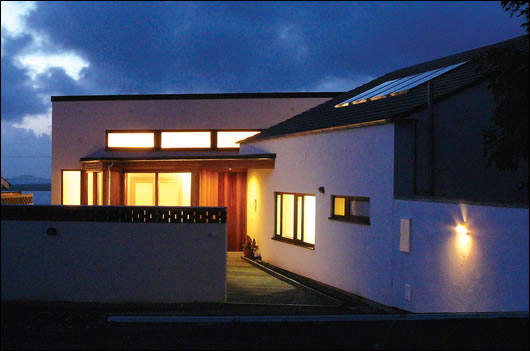 Dorman also credits the contractor himself. "He was interested, he wanted to know about these things, and he wanted to achieve a good rating…There's only so much time you can spend on site as an architect, you can't be there to do everything, you can't hold the tape. So you're dependent on having a good contractor who's really keen to do it." Two air-tightness tests were carried out by Donal Gilroy of Gilroy Energy. He says that the initial result of 1.96 m3/hr/m2 at 50Pa, conducted when the Intello system went on but before the service cavity and finishes, was one of the best he'd come across. "The attention to detail on things like thermal bridging and the detail that the builder put into sealing, to making sure it was air-tight around any outlets, was exceptionally well done." says Gilroy. "In addition, the detail on design to limit the number of penetrations on the building envelope, that has to be commended as well…There were really no areas of weakness." A second test, conducted after all finishes had been applied, returned a result of 1.59 m3/hr/m2.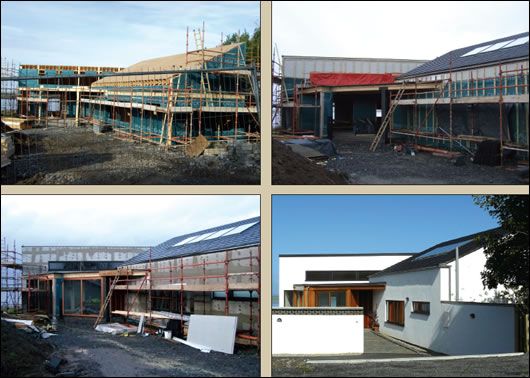 (clockwise from left) The external walls of the timber frame house with 300mm deep I-joists; the roof finish including in-line solar array is added with rainscreen protection; the building is clad with the Aquapanel cement board system; and the render system is applied

Internally, walls are finished with conventional gypsum plasterboard. Instead of the usual block or brick outer leaf, the house is clad in the Aquapanel cement board system from Greenspan. Boasting only around 10 per cent of the carbon footprint of a masonry wall, the panel has full NSAI Agrément approval including a 60 year design life. "It's a completely ventilated system," Chris Scanlon of Greenspan explains. "You've vertical batons on your structure and it ventilates out through the soffit on top. You install it, tape and fill the joints, put on a base coat, a mesh, a primer and finally a textured finish." The only cement board of its kind in the world, Aquapanel is durable and impact resistant and facilitates faster build times compared to conventional finishes.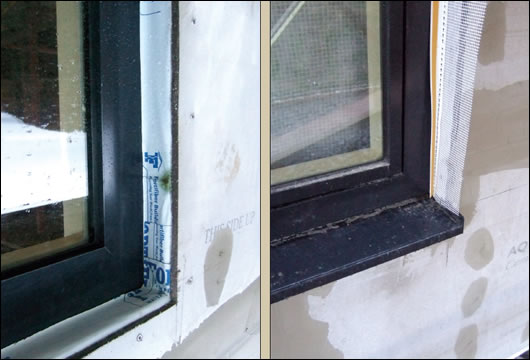 (left) Aquapanel cement fibre board is fixed over the air-tight flashing around the windows; (right) plaster mesh is bonded to the window frame

Space heating comes from a Firebird Heating Solutions condensing oil fired boiler with an efficiency rating of 93.4 per cent, backed up by a Scan 59 wood burning stove in the main living area. The stove has a rated heat load of 5.5kW, an efficiency rating of 74 per cent and its own dedicated, sealed air source. More sustainable heating options were explored but ultimately vetoed on cost grounds. The solar system was built and supplied by Velux, and consists of four flat plate CLI U12 4000 collectors, giving a total array size of 10m2. These feed a 375 litre TFF 400 02021 solar dual coil cylinder, without, it should be noted, any immersion back up. "The panels sit into the roof," says Darrell O'Kane of Velux. "The idea of the collector design is that it looks like a window, and then it uses a window flashing as well, so in theory whenever somebody looks up at it from the ground, their first thought is that it's a window with a blind pulled rather than a solar collector."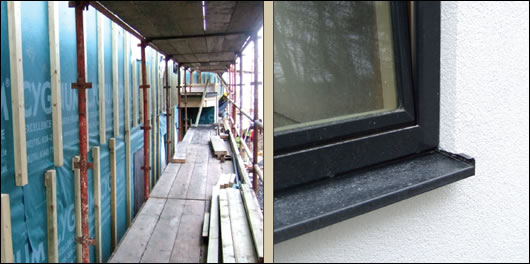 (left) Batens under the Aquapanel cement fibre board are staggered to allow air flow; (right) silicon mastic is applied to the window reveals to increase air-tightness

Heating controls situated in the utility room regulate heat to four zones – living areas, sleeping areas, circulation areas and hot water. "Each zone has one temperature controlling thermostat," Dorman explains. "All rooms within that zone have Myson two-way thermostatic valves to shut down the radiator once the room reaches the desired temperature. The principal room within the zone contains the main thermostat for that zone and the radiators in that room do not have thermostats." The boiler automatically shuts down when there is no demand for space heating or hot water.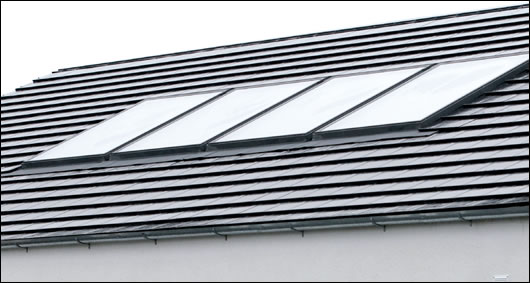 The solar system consists of four flat plate collectors, supplied by Velux

Ventilation is the minimum standard room vents – heat recovery ventilation and passive systems were considered, but again, cost considerations ruled them out. "There's always that debate," says Dorman. "You've gone through all of this air-tightness stuff, then punctured big holes in the wall, but we're bound by the regulations."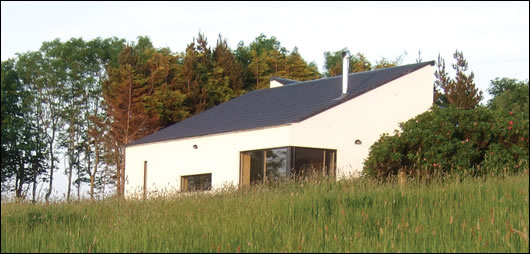 The house partially obscured by a meadow

Lighting is all low energy, save for one dimmable unit over the dining table, while natural materials feature prominently in the project. "That was really important to me," says Dorman. "So all of the paints are natural and there are natural oils and waxes on the floors. Again it takes a little leap of faith for clients – What does it mean? Am I going to have to be waxing the floor all the time? But it's been working fine here." Instead of a fitted kitchen, a local joiner built the kitchen from the same birch ply used though out the main living space on window boards and storage spaces. In addition to providing uniformity in design, it's also a highly versatile material, and comes in a variety of thicknesses. Externally, agricultural galvanised was used instead of PVC on gutters and downpipes. "We had to get a couple of corner pieces made to get the angles, but we took the view that when these rot, we don't have plastic that we can't get rid of. When these eventually rust, they disappear."

(left) Agricultural galvanised was used for external gutters and pipes instead of PVC; (right) window selection involved a compromise between reducing heat loss and enabling sea views

John Dorman secured his target B1 rating, with a carbon dioxide emissions rating (CDER) of 22.02KgCO2/m2/yr. The 175m2 house came in on budget (e375,000) and in time (39 weeks). "I never had a job go so well," says Dorman. "We had a great contractor who was motivated, interested and really wanted to do his best."

Selected project details

Architect: Dorman Architects

Main contractor: Horan Building Services Ltd

Air-tightness test: Gilroy Energy Services

Timber frame: Cygnum

Cladding supplier: Greenspan

Air-tightness products: Ecological Building Systems

Cellulose insulation: Abbey Insulation

Service cavity insulation: Rockwool

Floor insulation: Kingspan

Roof insulation: Isover

Windows: Alpenland Fenesterbau

Solar array: Velux

Condensing oil boiler: Firebird

Lighting: Hicken Lighting /Bob Bushell