Solid as a rock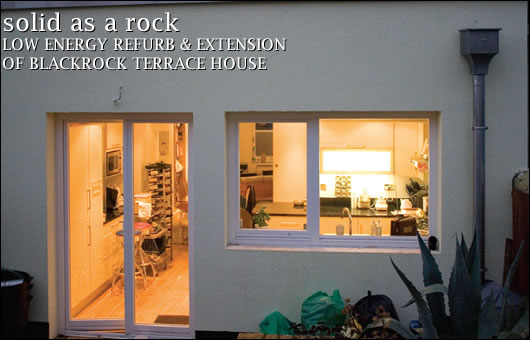 With over twenty years of design behind him, architect Martin Meyer has tackled plenty of big projects in his time, but his first home renovation challenge – to turn a dank 19th century red-brick house into a bright energy efficient home – was still eye-opening. Lenny Antonelli reports
For Margot Slattery it wasn't a question of if she'd renovate, but when. Slattery bought her red brick terraced home in Blackrock, south Dublin in 2006, but her plan was always to revamp it before moving in. "It was really, really poor. The whole thing was old, badly done, damp," she says, "there was no way you could have moved in."

Having seen how well a neighbour's house had been renovated, and remembering her cold childhood house in Limerick, she knew what she wanted: a bright, comfortable and energy efficient home. Green reasons motivated her too. "I'm personally very interested in the environment, I'm a keen recycler," she says.

Based on a recommendation, Slattery hired Martin Meyer, a German architect who'd moved to Ireland in 2004 and worked for various practices before setting up his own firm. Meyer had worked on hotels, schools and even a e50m refurbishment for the German department of finance – but small residential jobs were quite new to him. "It's very intimate, private and personal, you learn to know the clients and they learn to know you as well," he says.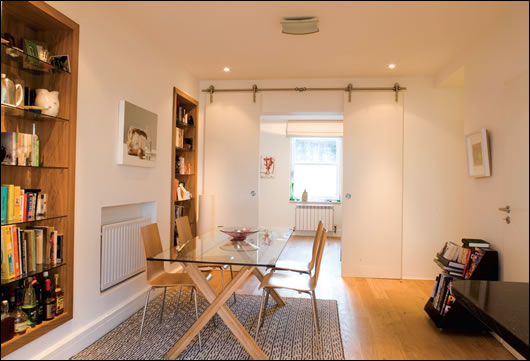 The interior has been converted into a bright and modern open-plan space

But such a project poses challenges too. "It's a big burden on you also, because the expectation of the clients is very great that you sort out everything for them. If you are involved in every little thing, then they want you to get [every little thing] right also. And that is the aspiration I would have for my work work, to get it all right."

Once on site, Meyer and his team gutted the house, knocking internal walls and two small extensions. They removed the floor slabs and dug down half a metre, insulating the new slab with 120mm of expanded polystyrene (EPS) to achieve a U-value of 0.2 W/m2K. This was key to insulating the house. "It was so cold from below [before]," Meyer says.

The team knocked the back wall of the old kitchen too, using salvaged bricks and new concrete blocks to construct a new extension. Meyer insulated the main rear facade externally with the Sto system including 180mm of EPS to give it a U-value of 0.16 W/m2K. The sides of the extension were insulated internally with an 80mm Xtratherm Polyiso board, and the main party walls with a 40mm Kingspan board.

Though Meyer prefers to insulate externally – it poses a lower risk of condensation – he had little choice but to insulate the 19th century single-leaf red-brick facade inside. "I didn't dare to change the look of the house," he says. He used 80mm of Polyiso here – giving the walls a U-value of 0.21W/m2K – and installed an air-tight polyurethane vapour barrier inside.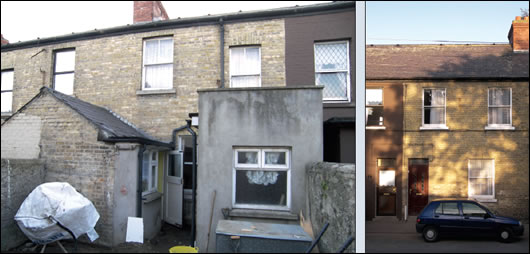 The outside of the house prior to renovation

Meyer's team built up the party walls on both sides of the attic, closing the large openings that led to neighboring attics. They installed 100mm of Polyiso between the rafters of the pitched roof with a further 60mm inside an air-tight vapour membrane in between, giving a U-value of 0.17W/m2K. Meyer opted for a similar build-up for the vertical sections of attic wall, and fitted 300mm of Rockwool in other uninsulated spaces around the attic room. "I wanted the roof to be highly insulated," he says.


He also installed a triple-glazed, Passivhaus Institut certified rooflight here. Throughout the rest of the house he opted for double-glazed windows with an overall U-value of 1.4 W/m2K. Meyer shunned traditional sash windows because of their poor thermal performance, choosing modern tilt-and-turn-windows with a horizontal bar to replicate the original look. "Other clients might say they want to keep the sash windows and they want to keep the original fireplaces," he says, "but when you have those two features you might as well forget about low energy stuff because it gets so draughty there's little use."

Meyer's team sealed around windows and doors to prevent draughts, and installed an air-tight vapour barrier in all external surfaces except the party walls and the externally insulated rear facade. They also put a wind-tightness membrane inside the roof slate and sealed up three fireplaces. The house scored an air-tightness result of 10.02 air changes per hour at 50 pascals - close to the minimum requirement for new homes but still disappointing for Meyer, who'd hoped to achieve better, in spite of the fact that an air-tight membrane wasn't used throughout the building.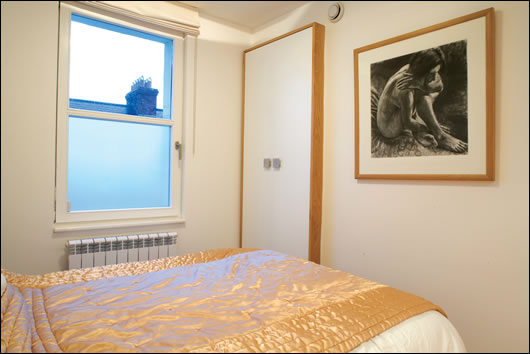 The house features double-glazed tilt-and-turn windows with a horizontal bar that replicates the old sash look

A new high efficiency condensing gas boiler now heats the house, supplemented by a heat recovery ventilation unit from MTD Solutions that uses warm outgoing air to heat cool incoming fresh air. A small gas fireplace was also installed in ones of the old fireplaces.

Seeing as this was his first residential renovation, is there anything Meyer wished he had done differently? "I would have loved to have used solar panels," he says. The orientation of the terrace makes this difficult though, with the roof surfaces facing east and west.

But Meyer did aim to get as much passive energy from the sun as possible, maximising the glazing in the east-facing kitchen. "Usually when there is a bit of sunshine you get quite a lot of solar gains just through these windows," he says. The terrace clearly wasn't originally designed with natural light in mind, and the big kitchen windows make all the difference here, brightening the white walls and timber finishes inside.

Construct Ireland visited the house last November – over two years since the job was done. "It's really fulfilled the promise in relation to the heat and warmth and energy savings," says Margot Slattery, adding that her gas bills are now "very low".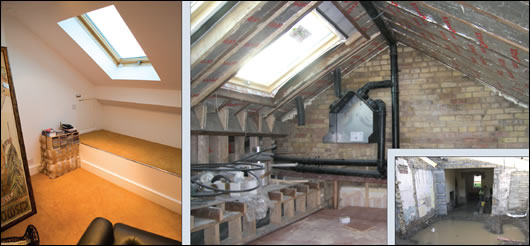 The attic space before and after – it was heavily insulated with Xtratherm Polyiso board and Rockwool and now boasts a triple-glazed Passivhaus certified rooflight too; (insert) the ground floor slab was removed and insulated

As for Meyer, he's busy with other residential new build and renovation projects in Dublin, and is happy to be working one-to-one with clients on individual projects. "You're dealing with the lives of people and trying to understand what they really want in their personal environment," he says. "That is very rewarding."

Selected project details

Architect: Meyer Architects

Internal insulation: Xtratherm / Kingspan / Rockwool

External insulation: Sto

Heat recovery ventilation: MTD Solutions