John Hearne
Zero carbon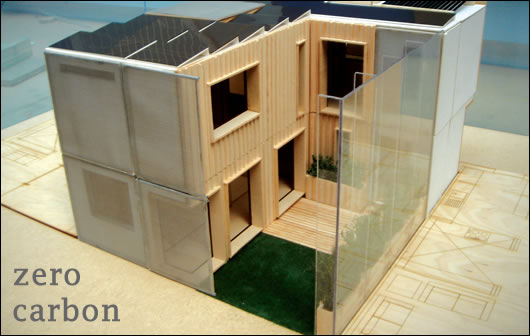 The biannual Solar Decathlon event in Washington DC has harnessed academic innovation from around the world to design avant garde sustainable homes. If the University of Nottingham entry is anything to go by, the competition's inaugural European equivalent won't disappoint.
Words: John Hearne
Construct Ireland travelled to Ecobuild at Earls Court in London in March to see the Nottingham House – an acronym for House Optimising the Use of Solar Energy. Designed and built by students from the University of Nottingham with major sponsorship from building materials giant Saint-Gobain, this is a modular passive house, conceived for the mass building market. Early next month, the house will be reconstructed in Madrid for SD Europe – the inaugural European version of the Solar Decathlon, a biannual event held in Washington DC. SD Europe is an international competition which aims to advance knowledge on sustainable homes, with a particular emphasis on efficiency and energy self-sufficiency. The final phase of the competition will be held in Madrid in late June, and will consist of the assembly and exhibition of twenty houses designed and built by participating universities from the USA, Brazil, China, Mexico, Germany, UK, Finland, France and Spain. The houses will be judged under ten separate headings, including architecture, comfort, energy balance and market viability – hence decathlon. Working alongside industry, students design and build a self-sufficient house powered by the sun.

In addition to fulfilling the competition's stringent requirements, the design team in the University of Nottingham also chose to target both passive house standards and code level six – the zero carbon rating under the UK's Code for Sustainable Homes (CSH).

Rachel Lee is one of the three students, along with Ben Hopkins and Chris Dalton, whose original design won the internal competition within the university to provide the entry for the decathlon. She explains that the design constraints laid down by the competition has encouraged entrants to tend towards single storey pavilion-type standalone units. The plot allows a footprint of 25m by 20m, but the maximum height limit of 5.5m discourages two storey liveable spaces. "As a team," says Ben Hopkins, "we decided to challenge the brief by creating a family house, because to create a truly sustainable solution, it needs to be something which families will want to live in." The team came up with what is essentially a starter home, a two-storey, L-shaped, flat-roofed structure built around a courtyard. "On the ground floor on the left, you come into a small entrance lobby, then into an open plan space where all the family areas are. Then on the first floor, there are two bedrooms either side of the void, a staircase and a large landing which can be used as active space rather than just circulation."



Illustrations reveal how the building would be ventilated in Spain using a passive evaporative downdraft cooling during the day and passive stack ventilation at night

The external space allows for shading in summer, provides an external focus for the house, and – this was key to the design team – somewhere to grow food. Again, given the tight footprint, designing with a family in mind meant an ongoing battle with space. "We had to concentrate on a number of elements," says Hopkins, "which was really about activating circulation and increasing visual and acoustic permeability between the spaces, because we wanted this to be a really nice house, a great family house, and not just an ecohouse."

"We tried to make everything compact to gain as much space as possible," says Rachel Lee. "We see the downstairs, open-plan space as a multi-functional space within the house. It acts as a dining room, but the table can be moved up so it can become a play space for children." Furniture in this area is built-in, again as a means of maximising space, and to provide positions for electrical services without threatening the airtightness membrane.

Because of the need to build quickly, the design team opted for modular construction early in the project. This also facilitated design flexibility, and kept faith with the aim to build for urban density. Given the right orientation, the house can be constructed either semi-detached or as part of a terrace, while retaining the private outdoor space in either version. Each module is fully finished and fitted with services, driven to site and craned in place. "With the help of a few connecting strips," says Ben Hopkins, "and a few plug and play services, it basically becomes a house very quickly." Ease of connection between services and modules is central to the design. For example, the upstairs bathroom lies directly above the downstairs toilet, and a grey water recycling system provided by Ecoplay supplies that toilet with runoff water from the upstairs shower.

The house consists of eight prefabricated modules assembled using a timber cassette panel structure. All timber is FSC or PEFC certified, and the cassette panels for the floors, walls and roof were supplied by Pasquill in the UK. Typical wall panels feature vertical timber I-joists at 600mm centres fixed to glulam top and bottom rails, with an external layer of 9mm OSB/3 fixed to the frame to provide additional rigidity. Once the cassettes were formed, insulation was inserted into the panels by teams of second year students in the university. Isover Ireland's Multimax 30 was used as the main insulation. It's got a high recycled content and gives a lambda value of 0.030 W/mK. A layer of Isover's Vario membrane was then added to maximise thermal performance and airtightness. A mechanical heat recovery ventilation system was supplied by Greenwood Airvac.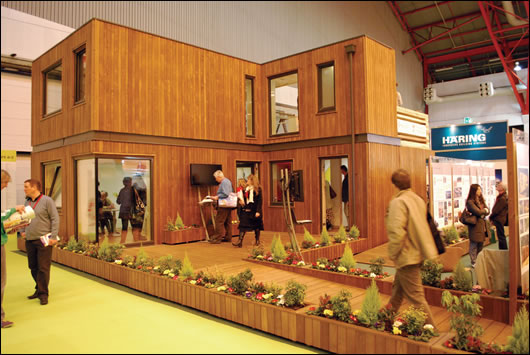 The house on display at Ecobuild 2010

Isover RKL Façade, an insulation product in board form, is fixed to the plywood on the outside of the wall cassettes, thereby minimising thermal bridging. RKL Façade has a coated glass cloth facing, giving a weatherproof finish which provides the same function as a breather membrane. The final timber weatherboarding finish is installed over the RKL Façade. A 65mm layer of Isover Acoustic Partition Roll APR 1200 was used to insulate the partitions and internal floors.

Internally, Gyproc's Rigidur H gypsum fibreboard was specified to complement the timber cassette and insulation system. Combining gypsum, cellulose fibres from recycled paper and water, this fibreboard has high impact and high racking strength.

Passive house standard triple-glazed, aluminium clad timber composite windows and doors were provided by Solaglas in partnership with AM Profiles. The high performance SGG Climatop 36mm triple-glazed unit incorporates u magnetron-coating technology with SGG Planitherm total, together with krypton-filled cavities. The resulting performance is a centre-pane U-value of 0.5 W/m2K and a whole window U-value of 0.8 W/m2K. Solaglas also manufactured all of the interior glass elements, including balustrades, kitchen splashbacks and mirrors.

The house is clad with an 18mm thick Radiata Pine Thermowood tongue and groove vertical weather boarding supplied by International Timber. The timber has been thermally treated to enhance stability and longevity and was coordinated with the window positions to ensure minimal wastage. Radiata Pine Thermowood was also specified for timber decking on the house. Internally, the house incorporated Ecophon acoustic ceiling and wall panel systems.

Because the house has to function in both a UK and a Spanish climate, a variety of heating and cooling strategies had to be incorporated into the build. The university developed a passive evaporative downdraft cooling (PDEC) system for use during summer daytime in the hotter, dryer climate. Misting nozzles are fitted into the void space at high level above family areas. These release water vapour into the double height space, and warm air entering the house from a ceiling opening is driven down as cool air into the living spaces. At night-time, passive stack ventilation is used. Hot air entering open windows downstairs is drawn up into the void and vented through the roof light. "In the spring," says Rachel Lee, "we use this void stack ventilator again, moving the hot air from the liveable spaces out, and in winter daytime and night-time, we make use of the thermally insulated envelope which is sealed for airtightness. In this way, the occupants can maintain the heat within the spaces, and we're not relying completely on the systems such as solar panels."

Solar shading strategies are employed to ensure no overheating in summer while passive solar gains are maximised during winter months. "With the different shading strategies and natural ventilation strategies," says Hopkins, "the house works for both climates. Energy generation is the same and elements of insulation are the same, so too the orientation and the window distribution. We've done passive house accreditation for Madrid and Nottingham." In addition, the air-source heat pump which provides back-up heating in Madrid becomes a ground source pump in Nottingham. A rainwater harvesting system commissioned for the Nottingham climate will not be required in Madrid. This mix of strategies gives the house a range of geographical applications.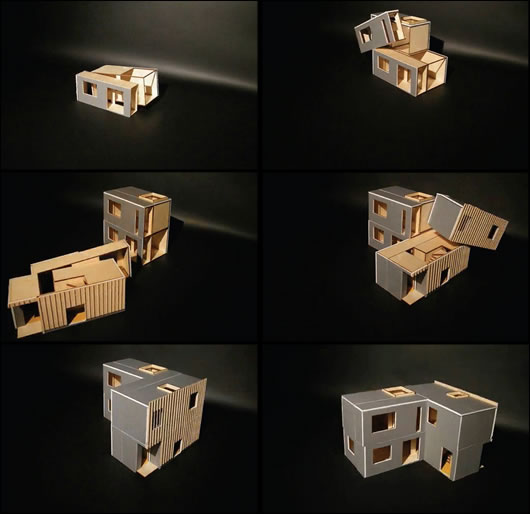 A sequence of renderings showing the various modules of the house coming together

5m2 of thermal solar collectors integrated into the roof will generate an estimated 9.45kWh/day. In addition, Saint-Gobain Solar have supplied a 24m2 Avancis photovoltaic array which will provide sufficient power for lighting and appliances to give it net zero carbon status. "This," project director Dr Mark Gillott of the University of Nottingham explains, "is one of the key criteria of the competition. We've done a lot of modelling work but of course it's theory. We'll see how it performs during the competition itself. All of the houses are closely monitored by the judges. There's even an exclusion period where we can't go into the house, where the judges go in and evaluate everything."

Gerry Mitchell, head of innovation at Saint-Gobain Isover has been involved with the Nottingham House from the delivery of components to assembly on the university campus. "The greatest satisfaction for me was to see, from the first day, working with a collection of students who were very nervous and unsure of what to do, to what you find now, which is a very accomplished, knowledgeable team who are well versed in the design and assembly of components for a low energy house."

Selected project details
Insulation & airtightness membrane: Isover Ireland
Rigidur fibreboard: Gyproc
Windows & doors, internal glazing: Solaglas & AM Profiles
Structural cassettes: Pasquill
External cladding & decking: International Timber
Work surfaces & bamboo floor: International Decorative Surfaces
Solar PV: Avancis
MVHR: Greenwood Airvac
Acoustic panels: Ecophon
Interior paints: Ecos Organic Paints
Greywater recycling: Ecoplay
Low energy lighting: Photonstar
Control systems: Microwatt