Philip Crowe
Dundalk green housing
More than just being energy efficient or using green materials, a truly sustainable building should be sufficiently flexible to meet the changing needs of its occupants throughout their lifetimes. Philip Crowe, director of architecture with MCO Projects describes a sustainable Dundalk housing project designed to prolong the independence of the older people it serves.
County Louth is home to Ireland's first sustainable energy zone, Dundalk 202O and was recently designated the first age friendly county in Ireland. The concepts behind these two initiatives are reflected in Great Northern Haven, a new housing project on Barrack Street, Dundalk, designed and project managed by MCO Projects. The project provides a new energy efficient adaptive housing model for older people, that will enable residents to live independently in their homes for longer by the use of innovative sensor technology and intelligent design. The homes provide improved quality of life through a comfortable, healthy and accessible internal environment, with efficiencies in cost of living and energy provision. They are designed to achieve a strong sense of community, as well as an innovative care model enabled by new ambient assisted living technology.

Great Northern Haven comprises 16 apartments, and a community centre. A demonstration home showcases the innovations in design and operation and facilitates the research aspect of the project. Located just a kilometre from Dundalk town centre, Great Northern Haven is close to amenities, avoiding any sense of isolation of older people – all residents are participants in the community within the development as well as the local area. The site was formerly a railway yard, more recently a petrol station, and was a vacant under-utilised site before development. The development creates a new street perpendicular to Barrack Street, which is an extension of historic Jocelyn Street in the town centre. All services, amenities and transport connections are in close proximity and the building is located adjacent to a primary health care centre. The community centre provides for social interaction for residents, and supports the wider research project and demonstration aspect, as well as providing a new focal point for a wider community.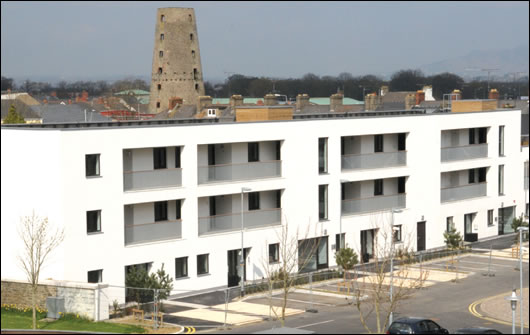 Great Northern Haven comprises 16 apartments and is designed to achieve a strong sense of community for its elderly inhabitants

Great Northern Haven is accessed off the new 'street' on the east side and each home has an external front door, with external deck access at upper levels allowing incidental social interaction. First and second floor decks access no more than two units in any one direction, allowing a sense of ownership of different sections, and privacy.

Each home is provided with a useable external terrace on the west side either at ground level or on balconies at upper levels – galvanised steel and timber structures that are separate to the building to avoid cold bridging. The ground floor garden space is communal with seating and raised planting beds for residents. This area is designed to encourage social interaction while also providing privacy to internal spaces and individual terraces.

The building is designed with flexibility and adaptability to accommodate the physical and cognitive needs of the residents as they develop over time. It is universally accessible and the internal layout of each home allows for key walls to be reconfigured to accommodate different living arrangements – such as a two bedroom arrangement providing a live-in carer or visiting relative with a separate bedroom, or a single bedroom arrangement with space for a larger assisted care bed and standard bed in one room. The door to the bathroom from the bedroom is full height to allow non-invasive installation of a hoist between the rooms. Other considerations include maintaining the privacy of the main bathroom by providing a separate u WC for visitors. The kitchen can also be adapted to provide adjustable height appliances, sinks and work surfaces.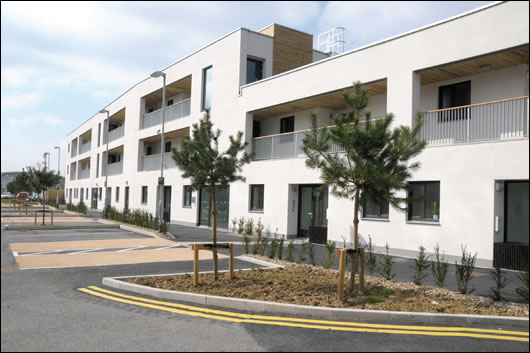 The lifetime adaptable home model & ambient assisted technologies
The building is designed to meet the changing needs of residents over time. An extensive wiring system in the homes enables new telehealth and monitoring equipment to be added almost anywhere. This can enable the remote monitoring of an illness so that a resident can live independently with peace of mind – knowing they are connected to friends, family and carers on a 24/7 basis. This is the essence of the innovative new care model by the use of state of the art ambient assisted living technologies (AAL) embedded and integrated into the fabric of the building. AAL offer older people the opportunity to gain greater benefit from technological advances. The intelligent environment includes sensors to help with safety and security, falls and fear of falling, memory and managing chronic healthcare conditions such as COPD, CHF and diabetes. Devices that can be installed include pulse oxymeters, glucometers, asthma monitors, fall detectors and many others. For older people with less mobility and dexterity, home automation functions can be installed including remotely controlled light and heating, as well as door and window functioning.


Each home can adapt to the changing care needs of a resident once programmed to sense any changes in movement or physiology so that assistance can be activated if and when needed. For example, the fall detection system will not only raise the alarm in the event of the occupant falling, but will also simultaneously shut down the mains and running water until the safety of the resident is ensured.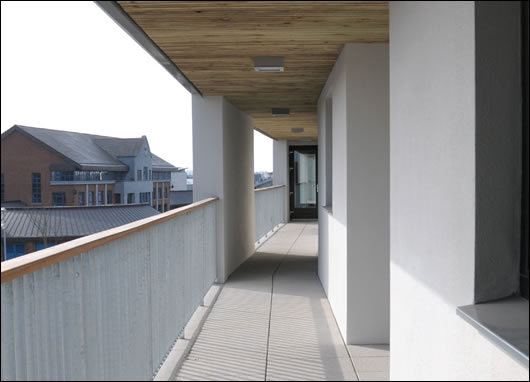 In a recent Age Action survey asking what positive ageing meant to members, the consistent response was a desire to continue as active members of society, being able to age with dignity and to have their own independence. In the Great Northern Haven the technology can help older people to maintain their autonomy and social connectedness, while at the same time increasing a sense of safety, motivation and self-confidence.

The energy efficient home
The development comprises a community centre including the central services and district heating system and the main residential building. The boiler house and other building services are housed in the community centre building. The main building is a simple form with minimal surface area to minimise heat loss, principle elevations to the east and west for good levels of light and solar gain and a shallow plan allowing dual aspect living accommodation. The masonry walls have a 150mm Quinn Lite inner leaf and 150mm cavity fully filled with Warmfill Super Silver bonded bead insulation achieving a U-value of 0.158 W/m2K. Hardwood framed windows provide a U-value of 1.2 W/m2K and are all east or west facing. The external render and internal plaster, elimination of penetrations through external walls, and careful detailing around windows contribute to a high level of airtightness. This allows efficient use of a mechanically ventilated heat recovery unit in each apartment, supplying fresh air pre-heated by the
extracted stale air. Underfloor heating throughout the units is supplied by a district heating system with a shared 150kW wood pellet boiler.

The building fabric and systems are designed to create a healthy and comfortable indoor environment at a consistent and evenly distributed temperature with constant fresh air movement. The heat demand and therefore the temperature of the floor will be low due to the high level of heat retention. The front door of each unit is lobbied to reduce heat loss. The mechanically ventilated heat recovery unit has an option to increase flow rate when high levels of water vapour are being produced.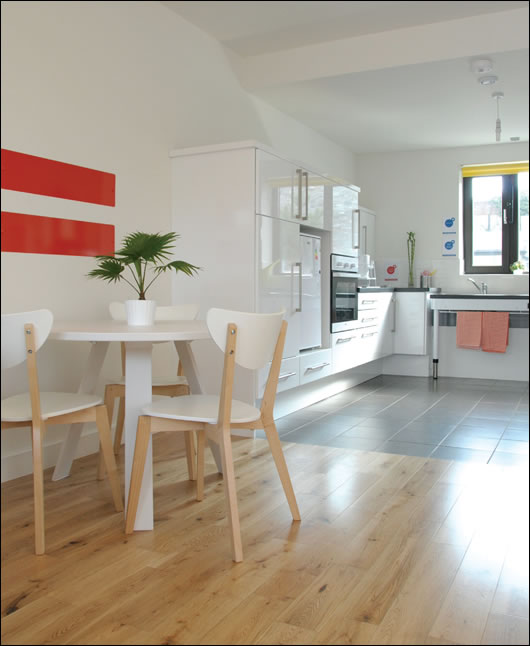 Accessible information about home controls
The building is designed for ease of control for residents, with integrated home automation and intelligent systems programmed to suit individual residents with real time information about the heating, lighting and sensor technology systems available on a small touch-screen in the home. This includes information such as average temperature, energy usage, weather (from a weather station on the roof of the building), news and radio. The indoor temperatures are also recorded remotely on the BMS displays in the community centre which can also be accessed remotely.

Each home has integrated technology programmed to create an intelligent environment specific to each resident that facilitates independent living. This technology can also deliver energy savings such as turning the heat off when a window is opened, warning residents if appliances have been left on when a resident leaves the apartment, and switching lights off with door and presence detectors.


Critically for older people, the energy efficient district heating system means costs are not vulnerable to the extremes of fossil fuel price fluctuation and carbon taxes. A carbon neutral and locally produced fuel source is used and very high efficiency will be achieved by using one boiler to supply hot water to a well insulated and airtight building.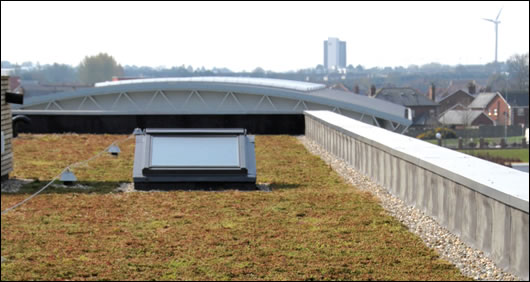 The development features a sedum roof supplied by Moy materials

Post-occupancy evaluation will include the monitoring of energy and environmental performance through regular data capture and temperature logging in the intelligent environment. Analysis of the research will inform future optimal efficiencies in settings/parameters of the integrated systems based on actual performance. The building services have been installed to accommodate the future installation of solar thermal collectors on the roof to provide hot water and therefore lessen the u
demand on the boiler further.

A unique collaboration
The Great Northern Haven is a partnership project between Dundalk Town Council, Louth County Council, the Netwell Centre in the Dundalk Institute of Technology and the Dublin Northeast area of the HSE, who are joined in the initiative by the National Centre for Sensor Research at Dublin City University and the University of Ulster. The funding partners are the Department of the Environment, the Sustainable Energy Authority of Ireland, and the Atlantic Philanthropies. MCO Projects – who managed the process for the steering group of partners – were the architects, project managers and sustainable design consultants for the development, and continue to work with the project partners in the post-occupancy evaluation and research. MCO Projects led the design team with advisors PRP. The construction was completed in February 2010 with first residents moving in during April.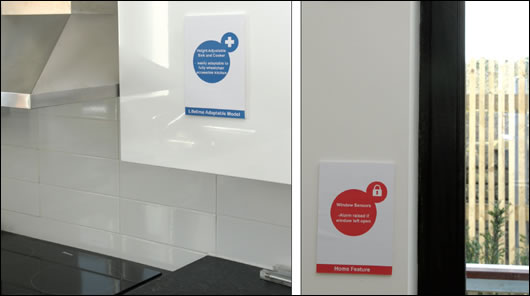 (left) the kitchen can be adapted to provide adjustable height appliances, sinks and work surfaces; (right) innovative sensor technology can detect if a window has been left open and raise an alarm

The research outputs from the Great Northern Haven housing project will help influence the quality of new housing provision for older people at a national level and is linked internationally through the Netwell Centre's research. The process has provided invaluable experience that can be applied to similar projects in the future including adaptation of existing homes for ageing-in-place, and a more effective, integrated delivery of services to older people in their homes. The model can also be applied to other target groups such as those with physical or intellectual disabilities. The first of its kind in Ireland, the Great Northern Haven housing project will increase our ability to support those with higher dependency needs within the community.


Selected project details
Client: Dundalk Town Council/Louth County Council /HSE/DKIT
Architect/project manager/sustainability consultant: MCO Projects
M & E engineer: Arup
Main contractor: O'Hanlon & Farrell Contracts
Structural engineer: O'Connor Sutton Cronin
Quantity surveyors: Kerrigan Sheanon Newman
Mechanical contractor: Haughton & Young
Electrical contractor: JJ McGovern
Structure: Quinn Lite
Wall insulation: Warmfill
Roof insulation & sedum roof: Moy Materials
External windows & doors: Ballykelly Group
Glazing for windows: Camden Group
Hydraulic lime & white cement render: Keim
Wood pellet boiler: Clearpower
MVHR: Aereco
Lighting: National Lighting /Onepointtwo
Lighting & heating controls & fall detection: Rockbrook Engineering
Additional heating controls: Techcon
Permeable paving: Acheson & Glover
Conn Murray, County Manager, Louth Local Authorities

"What has been achieved at the Great Northern Haven development is an excellent example of the results that can be delivered through joined up thinking. One of the real strengths we have in Dundalk and Louth is that agencies work together very well to deliver best outcomes. No one of the various stakeholders involved in bringing this project to completion could have done so in isolation and it is to the credit of all that such fine homes have been created.

"As well as the great technologies used to ensure that those who will live in these homes from April can do so with peace of mind, they also have an excellent design from an energy use perspective so that they will stand the test of time and be affordable to heat and light. For too long, older people were consigned to institutional care when their preference would have been to live in their own homes for so long as it was safe to do so. What is provided here offers an excellent model for allowing that to happen."