Passive mixed development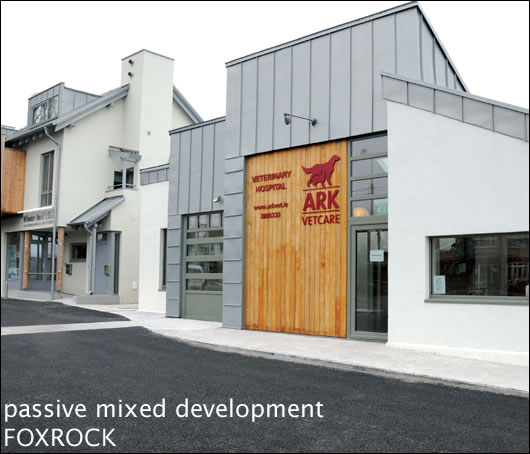 A new development in south Dublin features a variety of building systems, including externally insulated poroton and aircrete block along with timber frame construction – all used to build two buildings to exacting energy standards.
I'm standing in a room at the back of the new Ark veterinary clinic in Foxrock, south Dublin – a King Charles Spaniel and West Highland Terrier are staring curiously at me from their kennels. Seamus O'Loughlin of green builders Viking House explains how he won the contract for the clinic and the building next door. "We just tendered for it with everybody," he says. Though he had to compete with conventional builders for the job on cost, his plan was always to build it to a rigorous low energy standard.

Poroton and aircrete veterinary clinic
Viking House constructed most of the 250 square metre clinic with poroton block, insulated externally with 220mm of expanded polystyrene (EPS) from Aerobord. But when Ark asked for more space, Viking House got to work building an extension with Quinn Lite's aircrete blocks. Aircrete is a lightweight cementitious block made with pulverized fly ash cement, sand, lime, aluminium powder and water.

O'Loughlin says Quinn Lite is a greener material than many think. Manufactured in Fermanagh in a factory powered by a 54MW wind farm, Quinn Lite is produced at 110C – quite cool compared to the 900C poroton is fired at.

Both poroton and aircrete are what O'Loughlin calls "warm materials". He explains: "If you put your hand on a poroton or Quinn Lite block…your hand starts to feel warm at the count of ten, so it starts to give you heat back, it's a warm material. If you put your hand on concrete and count to 1,010 it's still cold – it's a cold material."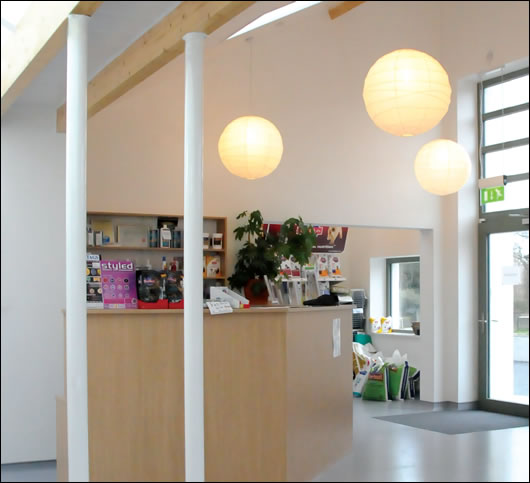 The reception area of the veterinary clinic building

He says choosing warm materials means you can heat your building to a lower temperature and still feel comfortable. "If your Quinn Lite block is at 19C you only need to set your room temperature to 21C to feel warm, but if your wall is at 15C then you need to set your room temperature to 25C."

O'Loughlin says both aircrete and poroton offer impressive decrement delay – the ability of materials to slow heat losses and gains and smooth out temperature peaks and troughs inside. Traditional concrete is dense and thus highly conductive so it gives heat away too quickly, he says – materials with a density of between 70 kg/m3 and 400m3 like poroton and aircrete are ideal. "They're medium weight products that give you decrement delay and they are warm materials to touch – they give you a lot more than it says on the tin."

Viking House poked regular holes in the EPS to ensure the outside of the build-up is more vapour permeable than the inside, encouraging any moisture in the walls to migrate out. In hindsight O'Loughlin says this may have been overly cautious – it might have been needed if the walls got wet during the build, he says, but plastic covering kept them dry.

A 10mm unvented air gap between the EPS and the blocks helps keep this junction free of moisture, while a Paul 200/300 heat recovery ventilation unit – certified by the Passivhaus Institute – keeps relative humidity low inside.

Good air-tightness is necessary for effective HRV, and Viking House sealed the build with air-tightness tapes from Siga. A blower door test produced an excellent result of 0.85 air changes per hour (ACH) at 50 pascals, though further sealing was done after this.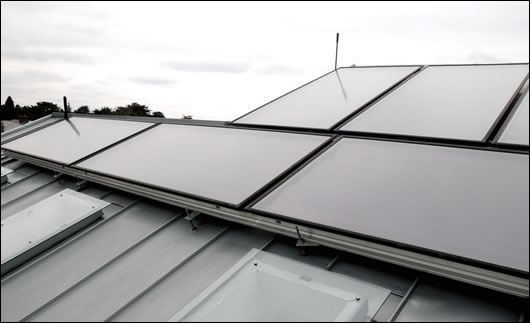 A 10m2 solar array sits next to Viking House's bespoke roof-lighting solution

O'Loughlin chose German triple-glazed argon-filled windows for the veterinary clinic – the units have an overall U-value of 0.9 W/m2K. He also installed triple-glazed rooflights. While traditional rooflights sit on top of the roof to let rain run off, this creates a major cold bridge at the frame – Viking House instead put an individual sheet of glass above the slates to deal with rain and installed the main triple-glazed unit inside this to prevent cold-bridging.

From the inside out the roof features plasterboard, a cellulose-insulated 25mm cavity, taped and sealed Medite Smartply OSB board, 250mm cellulose insulation, 80mm of Gutex wood fibre-board from Ecological Building Systems, a ventilated airspace and zinc cladding outside – adding up to a U-value of 0.11 W/m2K. John Egan installed the cellulose insulation. Egan says that while his company sources its product – made with recycled paper and cardboard – from Germany, he's hoping to manufacture in Ireland soon.

Viking House also developed a unique foundation system on the project that O'Loughlin has since patented. Designed for block walls, it features EPS 300 – high structural grade expanded polystyrene – wrapped under the reinforced concrete ringbeam to prevent the traditional cold bridge that occurs at the junction between walls and the foundation. "Once people have used it they don't want to go back to traditional foundations," he says.

A high-efficiency condensing gas boiler heats the building via an underfloor distribution system – it also supplements a 10 square metre array of flat plate solar panels in providing hot water. The building's space heating demand – calculated using the Passive House Planning Package software (PHPP) – is 12kWh/m2/year.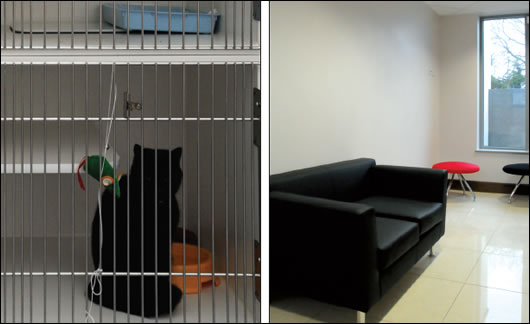 (left) a patient of the clinic; (right) NorDan N-Tech triple glazed windows seen from the doctor's surgery waiting area

Timber frame doctor's surgery and apartments
Viking House constructed the building next door to an equally exacting energy standard – but with completely different systems. Home to a doctor's surgery and two apartments, O'Loughlin used a timber-frame system from German manufacturer Ochs. He opted for different glazing and heating systems here too. "We wanted to try out different systems, to see how different things work, how they work in reality," he says.

From the inside out, the timber frame walls feature double plasterboard, a 60mm cellulose-insulated cavity, OSB Board, vapour barrier, 225m cellulose insulation, external grade wood fibre-magnesium board and Aquapanel as external cladding. Aquapanel is a cementitious board for external cladding – as an article by architect Joseph Little in Construct Ireland (volume 5, issue 2) indicates, it has a carbon footprint or roughly one tenth of a traditional concrete block structure. The walls have a U-value of 0.13W/m2K.

From the inside out the insulating elements of u building's roof include 25mm double plasterboard, 60mm of cellulose insulation, OSB board, vapour barrier, 225mm of mineral wool followed by wood fibreboard – the roof U-value is 0.17W/m2K.

The most recent blower door tests produced air-tightness results of around 0.8 ACH for the surgery and apartments. Further sealing work has been done since to nudge them closer to the Passivhaus Institute standard of 0.6 ACH, but a final test hasn't been done. As with the vet's, Viking House installed Paul 200/300 HRV systems in the doctor's surgery and apartments.

O'Loughlin installed triple-glazed Nordan Ntech windows in the surgery and apartments with 16mm argon-filled gaps, two low-e coatings and an overall U-value of 0.7W/m2K. "That's the optimum cavity width for argon," says Nordan's John McMenamy. "Above or below it, it becomes less effective."

The windows feature a polyurethane thermal break to prevent cold bridging, and the U-value is certified by the Norwegian Building Institute. All timber used in Nordan's windows and doors – Nordic pine was used for this project – is certified as sustainable by the Programme for the Endorsement of Forest Certification (PEFC).

The building is heated electrically now, but O'Loughlin will soon install 3.6kW Panasonic air source heat pumps in the apartments and doctor's surgery. "Even though the heating demand is low I would still like to fit the heat pumps to try to lower the bills even further," he says.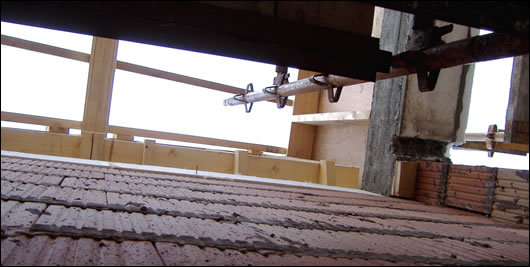 The development involved the use of several innovative sustainable building materials including poroton blocks

O'Loughlin would have considered using another heat source if he'd known about the possibility of using it – the public sewer. Because the temperature of sewer pipes is five to seven degrees higher than the surrounding soil, he reckons it's an ideal place to run the collectors for a ground source heat pump. He's in contact with a Dutch professor with experience using this type of technology.
The doctor's surgery has a space heating demand of 14 kWh/m2/yr, the apartments 8 kWh/m2/yr. But the buildings boast other green features too – the concrete used contains either 50 or 70% ground granulated blastfurnane slag (GGBS), and O'Loughlin is about to install a rainwater harvesting system.

But the main focus was lowering energy demand – O'Loughlin was building with the Passivhaus standard in mind. When buildings approach passive standards you can even start to factor in heat generated by people and machines – O'Loughlin jokes that he even wondered how much energy a cat's body generates when thinking about heating strategies for the vet's.

He didn't mind not quite making the Passivhaus standard. The vet's has an air-tightness of 0.85 ACH, but even if he hit the Passivhaus Institute standard of 0.6 ACH it would only have lowered his heat demand by half a kilowatt according to PHPP. "The buildings are performing," he says. "It's a passive house in how it's operating."

He compares passive and ultra low-energy buildings to a flywheel – while they can sometimes seem cold inside at first, once they warm up they stay like that. "Once you get the flywheel moving," he says. "It doesn't take that much energy to keep it that way."


Selected project details

Architect: Martin Noone
Contractor: Viking House
Block work: Quinn Lite & FBT
Timber frame: Ochs
EPS insulation: Aerobord
Cellulose insulation: John Egan Cellulose
Windows: Nordan
Air-tightness products: Siga
OSB: Smartply
Heat recovery ventilation: Paul
Air source heat pumps: Panasonic