Split level timber frame house overcomes steep site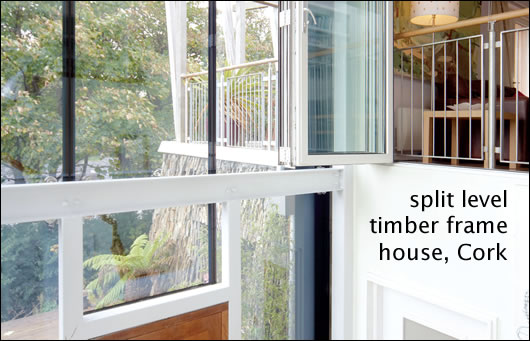 A new timber frame house overlooking Cork City makes the most of its steep and awkward site, combining contemporary architecture with green features such as passive solar design, rainwater harvesting, renewable heating and a broad palette of green materials.
Architect Cathal O'Boyle must have been the envy of his street when taps dripped dry in Cork City during the January cold snap – his rainwater harvesting system proved a lifeline for his neighbours. He ran a hose from an outdoor tap to a neighbour's bath to share his filtered rainwater, and brought full buckets to older neighbours too.

The system filters water collected from the roof, delivers it to two 600 litre tanks and then pumps it to the toilets, washing machine and external taps. O'Boyle's rationale for it makes sense: why waste drinking-quality water for watering the garden and flushing waste?

Rainwater harvesting is one of many green features at O'Boyle's 180 square metre home, nominated for best green residential building at the Green Awards earlier this month. Sustainability was always a priority for O'Boyle. Though he considered a rural site, he deemed the commute required to work in the city unsustainable. Instead he looked for a brownfield site within walking distance of the city centre – he wanted good public transport links and existing connections to sewage, waste and water services.

To save money he intentionally looked for an awkward site – one most developers were unwilling to take on. He came across a house for sale at Willmount on the northside of Cork City – it included a steep adjacent site with outline planning permission. O'Boyle bought the house, installed double-glazed windows and a new gas boiler and got started on his main project: designing a home from scratch on the site next door.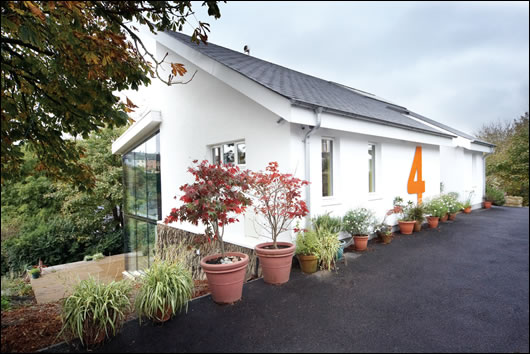 A vernacular white-render-and-slate look was used at the front of the house

That site, which drops five metres from front to back, dictated the need for a split level design. The entrance to the new house off the street is on the upper floor. O'Boyle maintained a vernacular white-render-and-slate look here, but extensive glazing gives the back of the house a distinctly contemporary look. "Not only is it a split-level house, but it has a split personality," he says.

He kept the building shape simple – "as square as possible" – to minimise the wall area through which heat can escape. Inside he wanted open spaces – he designed an open-plan kitchen and living space and shunned "useless heated spaces" like corridors. "In an average house you've got a long central corridor that's never used," he says.

He put a separate family room off the main living area, and a home office off the entrance foyer – this will allow Cathal or his wife Danielle to meet clients should either work from home. The main bedrooms, plant room and a storage room are downstairs.

With passive solar gain in mind, O'Boyle designed a tall double-glazed south-facing conservatory at the back. Floor tiles here provide thermal mass, while a double-glazed sliding door between the conservatory and main living spaces can be opened to let stored heat inside. "It actually works quite nicely," he says. "It does heat up in the shoulder months."

O'Boyle put the only flight of stairs in the conservatory too – outside the main insulated structure of the house. Because stairs are only used intermittently, O'Boyle reckons it's pointless to heat them all the time. "As we don't have a central circulation space and our stairs are not central it made sense that the stairs not be heated," he says. "It's a decision I'm quite happy with."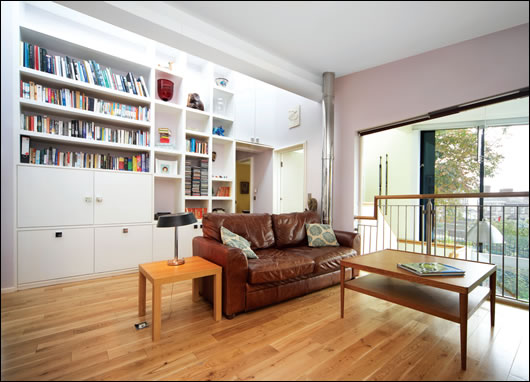 There is extensive glazing at the rear, providing a bright and open main living area

The tall conservatory is designed for natural stack ventilation too. Opening the doors at the bottom and a window at the top draws cool air in below and pushes warm air out above, cooling the space passively.

A Vent Axia Air Minder Plus HRV system provides mechanical ventilation. Vent Axia's Ronan Flanagan says the unit boasts up to 90% heat recovery while controlling condensation, and features LoWatt energy saving technology, DC fans, and automatic summer bypass and defrost functions. "I'm very impressed with that," O'Boyle says. "It works very well to keep heat in the house." u
The building itself is timber frame, a method O'Boyle planned to use from the start. "From a carbon point of view it seemed to me to be the lowest impact," he says. "A lot of my decisions were based on reducing carbon in materials selection and construction methods. But maybe if I did it again I'd go for something with a little more thermal mass."

He chose a system from Premier Homes, the now-defunct Cork manufacturer. The walls features 140mm of mineral wool insulation towards the inside of the build up and 120mm of polystyrene towards the outside – they have a U-value of 0.16W/m2K.

The roof features 150mm of Kingspan Polyiso throughout and has a U-value of 0.14W/m2K, while the ground floor is insulated with 200mm of polyurethane board to a U-value of 0.19W/m2K. Apart from the double-glazed conservatory, all windows are triple-glazed units with timber frames from C&W Windows Cork, with aluminium casings for durability. Glazing was supplied by CareyGlass.

O'Boyle installed air-tightness tapes and membranes from Siga throughout the build. A preliminary air-tightness test produced a result of 6m3/m2/hr – a good result considering the stage of construction – double-glazed windows and internal plasterboard had yet to be installed. Plastic sheeting was taped over window spaces during the test.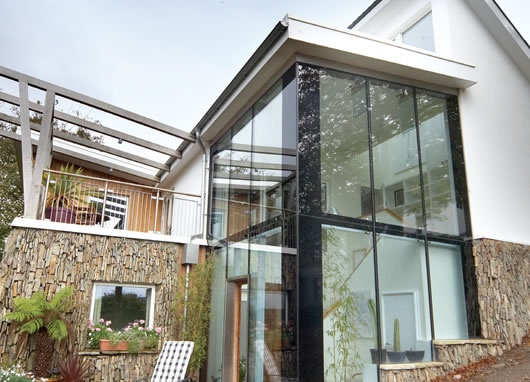 Locally sourced stone was used for external cladding and a garden wall

An SHT CKA wood pellet boiler – which SHT say is up to 94% efficient – heats the house, delivering heat to low temperature fan assisted radiators. O'Boyle considered wood chip, but as it's typically delivered by tractor and trailer he deemed it too awkward for his city site. An eight square metre array of flat plate solar panels helps provides hot water, supplementing the boiler.

The front roof feature tiles from Athy Ecoslate. The company manufactures its tiles in Athy, Co Kildare from recycled polypropylene sourced from the UK – and also buys back any unused slates or cut-offs from clients for recycling.

O'Boyle also used Ecocem's ground granulated blastfurnance slag (GGBS) as a replacement for Portland cement in the floor slabs and foundation. And he used locally sourced rubble stone walls for external cladding and a garden wall – its jagged finish is one of the building's most striking features.

"It's laid in a local fashion but with a new interpretation," O'Boyle says. "The style of wall is used extensively around Cork on the foreshore or as retaining walls. As with many stone laying styles, it is local to the area."

All lights in the house are fluorescent, LED or low wattage filament, and O'Boyle employed other green tricks too: a kitchen press is vented to the outside and insulated to passively create cool conditions for storing vegetables, while the A-rated fridge is also insulated and vents heat to the outside rather inside, keeping it cooler and boosting its efficiency.

The proof of the pudding is in O'Boyle's energy bills – after moving in late in 2008 he spent just €300 on wood pellets in 2009. He reckons this would have been even less if he could have pellets delivered in bulk to his constrained site, rather than having to buy in bags.

Demonstrating that sustainability and modern design are compatible was one of Boyle's main goals – he's very aware of the perception that green buildings mean discomfort. "I am convinced that this need not be the case and that good contemporary architecture should include a sustainable outlook and a cutting edge aesthetic," he says. He seems to have achieved both.

Selected project details

Architect: Cathal O'Boyle of Traynor O'Toole Architects
Timber Frame: Premier Homes
Windows: C&W Windows & Carey Glass
Heat recovery ventilation: Vent Axia
Air-tightness products: Siga
Roof slates: Athy Ecoslate
GGBS: Ecocem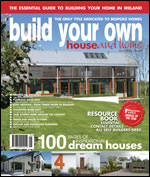 This project was first featured in the 2010 edition of Build Your Own House and Home published by Dyflin Publications and available in newsagents nationwide. www.dyflin.ie