Flight of the phoenix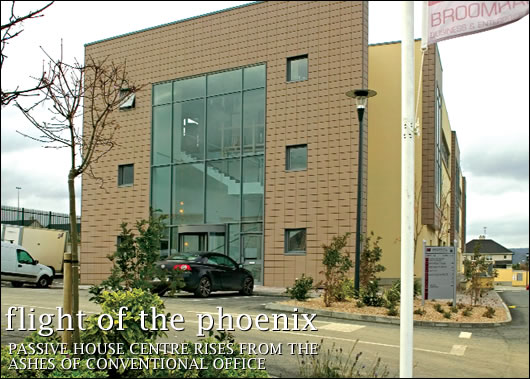 Beauty is only skin deep, or so goes the cliché, but is there more to 'grace' in a building than its exterior? Jason Walsh visited Rathnew, County Wicklow, to see how an ordinary office building was being transformed into a paragon of sustainability and spoke to two of the building's designers and occupants, architect Tomás Ó Leary and engineer Mark O'Brien
Just a few short years ago, before sustainable architecture and construction became the talk of the industry, there was a popular conceit that environmentally sound building was a synonym for ugly, as if every sustainable building was constructed from mud, Weetabix and hemp fibre. An absurd caricature, of course, for many reasons but one that also failed to take into account the fact that so many traditionally constructed buildings in Ireland in the last decade are at least as uninspiring from an architectural standpoint.

The new headquarters of sustainable architectural practice MosArt and energy consultants Energy 365 in Rathnew, County Wicklow might be considered by some to be a case in point. The building is all of the things that a typical Irish commercial building is: solid, simple, well-proportioned… and, one might argue, well, a bit uninspiring. Underneath the steel frame building's unassuming exterior, however, lies a heart that beats deep green. If there is more to beauty than meets the eye then the MosArt/Energy 365 building may well be one of the most beautiful commercial buildings in Ireland.

Green-making, not greenwashing
MosArt, of course, is one of Ireland's leading sustainable architectural practices. Founded by Tomás Ó Leary, the firm is almost exclusively dedicated to building to the passive house standard. As a result, when Ó Leary sought to open a new office to house the practice, it was only natural that he would seek to make the building as close to passive as can be achieved.

The building, in point of fact, is actually more than just a head office for MosArt and its engineering partner Energy 365, it is Ireland's first 'passive house centre of excellence'. With such an intention behind the design it is clear that the stakes were unusually high for MosArt.

"Essentially we are creating a passive commercial building," explains Tomás Ó Leary, but this fact belies the building's origin – it was already built before MosArt started the design process in May 2007, never mind the actual on-site work in October 2007.

"What we're doing is a retrofit project before we moved in," says Ó Leary.

If retrofitting a brand new building seems a peculiar concept then Ó Leary's explanation may help to clarify why it has been done: "We bought a conventional shell and didn't take the contractor's specification."

Determined to make it as environmentally sound as possible, Ó Leary took steps to change the entire nature of the building – with a little help from his friends: "We looked at heating, cooling, ventilation and light with Mark [O'Brien of Energy 365] to show that even in a commercial retrofit you can do this."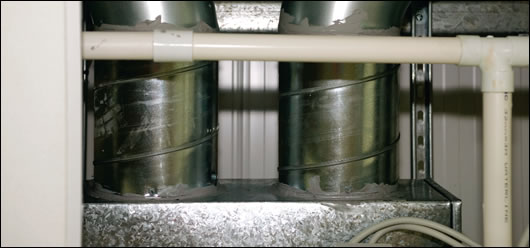 MosArt's partner in the project, Energy 365, is a building services consulting engineering firm that specialises in the provision of low energy buildings – a useful partner to have when taking on a complex task such as this. In fact, Energy 365 has been the driving force behind Ireland's only housing development yet to receive the coveted A1 in BER assessments – a 108 apartment scheme in Carlow Town by Inch Environmental Construction destined to be a truly world-class exemplar of what can be achieved in sustainable building.

Energy 365's Mark O'Brien explains: "Four or four and half years ago we, as mechanical and electrical engineers, took the decision to go into the low energy area exclusively," says O'Brien. "It required a completely new set of skills – it had to be done properly.

"From the onset of the project it was obvious to Energy 365 and MosArt that we had inherited a specific building with a fabric and orientation that was not optimal from an energy point of view. An added challenge for the design team was to try to overcome these limitations in order to deliver a low energy design."

Indeed, the fact that both the building fabric and orientation are less than optimal means that both companies gained vital experience in dealing with the reality of construction in Ireland today.

O'Brien explains that the process of getting the building up to the desired energy efficiency standard began with sophisticated computer modelling: "The building was modelled using dynamic simulation software (IES) to analyse overall heating, cooling and lighting loads. As is normal in modern offices the cooling load was higher than the heating load and a major contributing problem was a very high level of glazing to the south west orientation of the building."

In fact, the building's cooling load was three times the heating load. O'Brien describes this as trying to overcome a challenge that should never have been there in the first place. "A major problem was summer-time cooling," he says.

Rather than rely on a traditional and inefficient air-conditioning system, something usually considered suspect from a sustainability perspective due to the carbon intensity of grid electricity, for summer cooling, passive ventilation openings, designed by O'Brien, were deployed throughout the building to maximise cross-ventilation. Once again, computer simulation used to ensure that maximum temperatures desired in rooms were not exceeded throughout the year.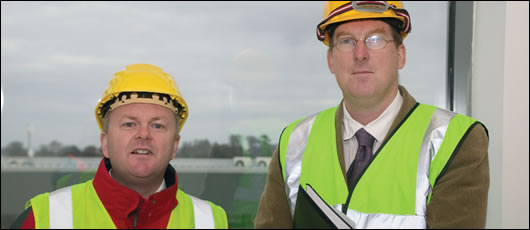 Tomás Ó Leary of MosArt and Mark O'Brien of Energy 365, designers and tenants of the retrofitted building

The effective but low-tech natural ventilation scheme relies on manual window openings, rather than automatic window actuators via a building management system. Stand-alone CO2 sensors have been fitted to occupied areas to ensure that adequate ventilation is achieved. O'Brien has calculated that natural ventilation results in a cooling load of 22.29 MWh per annum.

The building's windows were tinted on the south-west elevation in order to reduce heat build-up and glare: "We ran scenarios with all of the glazing entirely coated, with none coated and with just the top two panes coated."

It had proved to not be economically viable to replace the glazing with low-e glass and so O'Brien looked at adding tinting to the glazing. However when the whole glass wall was tinted in his simulations this resulted in the heating and lighting loads increasing by a greater amount than the cooling loads were reduced. The optimal solution resulted in the top portion of the glazing being tinted and leaving the bottom portion alone.

The relatively simple act of tinting the windows resulted in reducing the cooling load by 2,100 kWh per year.

When faced with interior windows that were not openable, rather than incurring the additional cost of replacing them, O'Brien installed cross-ventilation vents at low levels – air goes into the vents at the low level and travels up and out at a high level.

Addressing the building's heating load was a different task altogether. Here the designers were constrained with the existing steel frame building. However they felt there was an adequate level of insulation already installed and so the control of thermal bridging and air-tightness was paramount.

"It really is important that the external structure is sealed properly," says O'Brien.

All areas that required trickle ventilation in the winter, such as offices and the boardroom, were provided with low wattage in-line heat recovery units or occupancy based heat recovery units.

The main heating plant is a centralised air-to-air heat pump with a COP of 3.1 and individual control in each office area.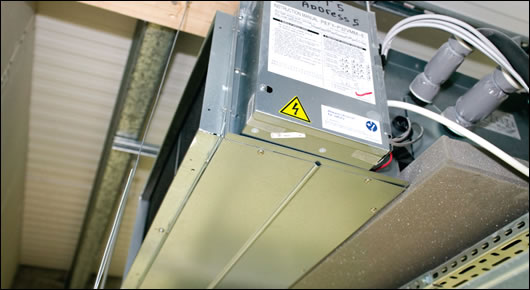 The centralized Mitzubishi air to air heat pump has a coefficient of performance of 3.1 and is used only for heating – the cooling function being rendered redundant by the building's natural ventilation strategy

The cooling functions of the heat pump are not required by the building due to the natural ventilation system discussed above, but they remain in place.

The building's lighting, including a magnificent, almost sculptural lighting array that dominates the entrance atrium, all uses low energy bulbs, a mixture of light emitting diodes (LEDs) and compact fluorescent lamps (CFLs). Additionally, lighting is controlled via daylight and occupancy sensors in order to reduce accidental waste use of electricity.

Green dreams of the future
As mentioned above, the building, to be known as the Phoenix Centre, is to be a centre of excellence in passive house design. "The big problem for passive houses in Ireland," says Ó Leary, "is that there is a lack of information available in the English language."

To counter this the building will be home to not only MosArt's seventeen-person architectural practice and Energy 365's three qualified engineers, but a whole range of passive house related business and service providers.

"This will be a one-stop-shop [for passive house builders]. They can get the architects in MosArt, the mechanical and electrical engineering in Energy 365 and we'll take on quantity surveyors and more. We will have a single point of information and excellence.

"We're going to set this building up as an exhibition and demonstration centre – we want to send out a signal," he says.

Ó Leary, who built one of the first passive houses in Ireland for himself, is more than optimistic that the passive house concept is headed straight into the mainstream: "Already the commercial developers are faced with the inevitability of the passive house. One developer in Enniscorthy is already building a 60-acre passive house village." Ó Leary also notes that by 2010 there will be a 60 per cent improvement in energy efficiency in new-build dwellings.

O'Brien too is facing the future with optimism: "We're doing two schemes in London [presently] – London is typically two years ahead of Ireland – but the type of work we're doing here is the same. We need to design buildings two years before they're occupied and that means to 2010 standards."

"By 2010 the passive house standard will be the base standard across the UK," adds Ó Leary.

According to O'Brien the transformation of the Irish construction industry is likely to be a rapid process and is one that is, in fact, already underway: "Energy labelling has had a huge impact. Non-compliance is being dealt with by Sustainable Energy Ireland and the Law Society.

"[Already] Any developer that puts up a number of houses will build to the C1 standard [and] they all want to get the B label, some, to the high level, A."


Solar thermal panels make a significant contribution towards meeting the building's heat energy demand

It is worth noting that there is a rough equivalency between some aspects of the passive house and the A rating in terms of insulation, air-tightness and ventilation. That said, to achieve the highest rating, A1, there is also a need for on site energy generation.

Renewed impetus
In keeping with the growth of renewables, the MosArt/Energy 365 building doesn't just approach passive standards in its re-design and retrofitted construction, it also makes significant use of renewable energy.

The building features thermal solar for domestic hot water, an air-to-air heat pump for space heating and cooling and both photovoltaic solar panels and a wind turbine for the generation of electricity. The building is not 'off-grid', nor is it intended to be, but on-site renewables do make a remarkable contribution to meeting the building's energy demands.

Mark O'Brien says that the building has a baseload demand of 5 kW.

"Whatever we create, we consume," he says. "We produce up to 20 to 30 kW during the day.

A 4.5 square metre flat plate solar thermal panel was installed to produce hot water. Backed up by a small gas boiler, the panel's expected thermal contribution is 3400 kWh annually.

The wind turbine is a 1.5 kW Swift turbine from Cell Energy Ireland, based in Sligo, fed into the electrical distribution board for electrical base load application. The Swift turbine has an expected electrical contribution of 2000 kWh annually.

A seven panel photovoltaic array, also supplied by Cell Energy Ireland, delivers 1.470 kilowatt peak fed into the electrical distribution board, again for electrical base load application. Its expected electrical contribution is 1,125 kWh annually.

"I looked at a lot of wind turbines," says O'Brien, "but the Swift was the only one I could stand behind."

The wind turbine is the first grid-connected wind turbine of any commercial building in Ireland. As one of the first installations of the Swift micro turbine, a renewable technology that won the 'Best Innovation' and 'Best Renewable Technology' awards at 2007's Plan Expo exhibition, the 'Phoenix' passive house centre of excellence is an interesting case study for the device.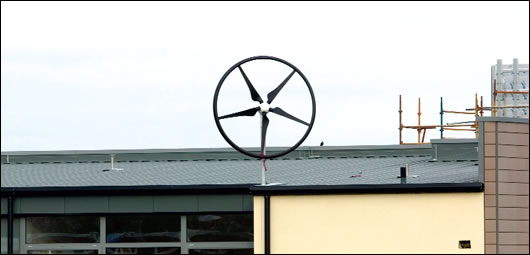 Alongside the solar panels a 1.5k Swift wind turbine is mounted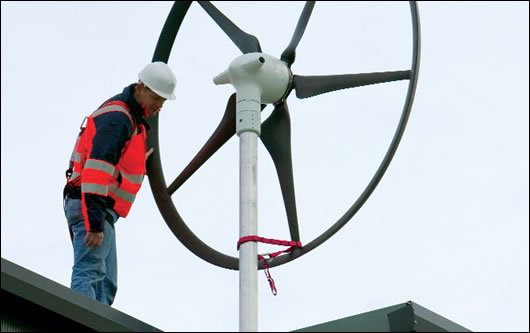 The award-winning Swift turbine being installed by Brian Ashe of Cell Energy Ireland. The Swift turbine's unique design minimises noise and vibration making it suitable for mounting directly on a building. It is also uniquely suited to urban environments with its ability to track shifts in wind

Cell Energy Ireland's Brian Ashe explains: "MosArt came to us via Energy 365. They were looking for wind turbine and photovoltaic [solar] systems.

"The Swift is a very innovative turbine. Ordinary turbines only have three blades where the Swift has five."

The Swift also does away with the traditional tail found on wind turbines, replacing it with a pair of 'furlers', a design feature has a desirable practical outcome – greater efficiency, particularly in urban areas where wind power has not always been as successful as had been hoped.

"A lot of turbines can't track wind shifts and turbulence in urban areas. The two furlers allow it to work [more efficiently] in urban areas, tracking the wind."

The Swift also has an outer ring around the blades which results in a reduction of tip cavitation, the anti-vibration method effectively dampening the noise: "It's the first turbine to be specifically designed for building integration, fixed to a building's roof rather than pole-mounted away from it, making less that 35 decibels of noise."

Ashe also says that the photovoltaic panels are unique: "I wanted to use that specific Sanyo panel – an alternative required eighteen panels to get the same output as seven of the Sanyo design. They're very high-yield, high efficiency."

The photovoltaic panel also won an award at the 2007 Plan Expo, in this case the overall award, bringing Cell Energy Ireland's prize haul up to five at the show, the first time in Plan Expo's history that a single company has pocketed so many accolades. Clearly proud, Ashe says: "We're a new and innovative company providing new and innovative products to the market in Ireland."

Ultimately the combination of high and low tech, of on-site renewable generation and natural ventilation and cooling, means that Ó Leary and O'Brien have created a successful building. That they have done so by working with a conventional building that was designed with little attention paid to energy issues only makes the achievement all the more remarkable.

"Both Energy 365 and MosArt are known for meeting challenges," says Ó Leary.

So, after rising to the challenge does Ó Leary think that the result was worth the effort, not just from an ethical standpoint, but also in purely commercial terms? The answer is a resounding yes: "Eventually I think the extra work will pay dividends commercially," he says. "Ethically it's right too, of course."

Project details

Architect: MosArt

M&E engineers: Energy365

PV & wind: Cell Energy Ireland

Solar thermal: Precision Heating