Gimme shelter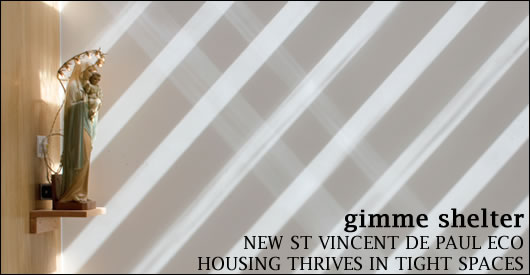 Designing a low energy building when you've got unlimited space is one thing – but what if you need to make your walls thin to maximise space on a small site in an architectural conservation area? Lenny Antonelli visited a new St Vincent De Paul sheltered housing project that fit a lot of sustainable features on to a small plot in Dublin's north inner city
Architect John-Barry Lowe's goal wasn't exactly simple: design a low energy building on a tight plot in a dense urban area, but make it spacious enough for four people to live comfortably in four separate apartments. It was never going to be an easy task – each apartment was to have just over 20 square metres of floor space.

Lowe designed the building – on Primrose St on the northside of Dublin city – for the St Vincent De Paul Society. The society manages six such houses around Dublin's inner city – all are transitional homes for those making their way from life in homeless hostels, or on the street, to more permanent accommodation. In the past these houses typically had shared bathroom and kitchen facilities, but the society has started the process of converting them into separate self-contained apartments to offer residents more independence and privacy. The house that previously occupied the Primose St site had shared facilities, and the society was keen to convert it.


Lowe was charged with this task. He decided to knock the existing building on the site, a house clad with what he describes as a "horrible brown tile." "It was brutal," he says. Low energy building specialists Viking House set about constructing a new building from scratch, starting with new foundations. Viking House's foundation system is certified by the Passivhaus Institut, and features 300mm of expanded polystyrene (EPS) insulation and precise detailing to prevent cold bridging between the foundation and the wall. It boasts a formidable U-value of 0.1 W/m2K.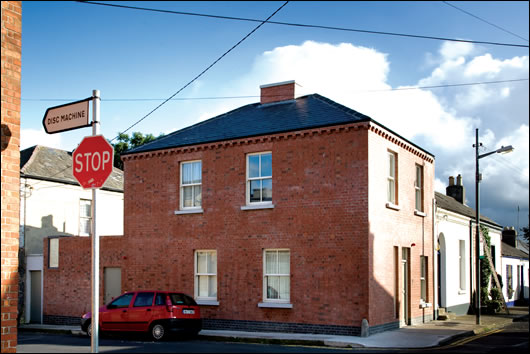 The new timber-frame building boasts impressive thermal performance despite thin walls being required on the tight plot. The brick finish is one of the building's crowning achievements, fitting comfortably in the surroundings of Dublin's north inner city

Inside, the house is divided into four separate units – two up and two down, each designed for one resident. All are at least dual aspect – three are triple aspect – and all are designed to make the most efficient use of space possible. Though each has a floor area of just 20 square metres, the apartments feel much larger, and are easily comfortable enough for one person to live in.

Unable to use a thicker build because of the site's constraints, Viking House specified a timber frame system – manufactured in Thurles by TMB Timber Frame and completed by MBC Timber Frame when TMB sadly fell victim to the downturn – of about 200mm. From the inside out the build-up includes plasterboard, 37mm of cross battening with Rockwool insulation, taped USB board, a 140mm stud with Rockwool insulation, 9mm of Panelvent, a Tyvek membrane, and then a 50mm cavity. Lowe specified a brick finish for the front and sides of the build, with concrete block to the rear. The build-up has a U-value of 0.23 W/m2K. While this isn't ground-breaking – the building regulations demand a U-value of 0.27 W/m2K at worst – it's quite impressive considering the slender build.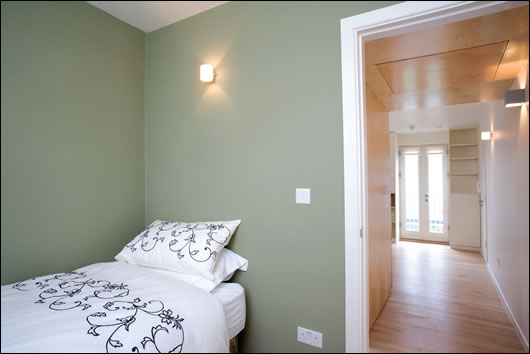 The house is divided into four 20 sq. m self-contained apartments, each featuring a bathroom, bedroom (above) and kitchen-cumliving room (below). Designing the building so four people could live comfortably in four separate apartments was one of the key challenges for architect John-Barry Lowe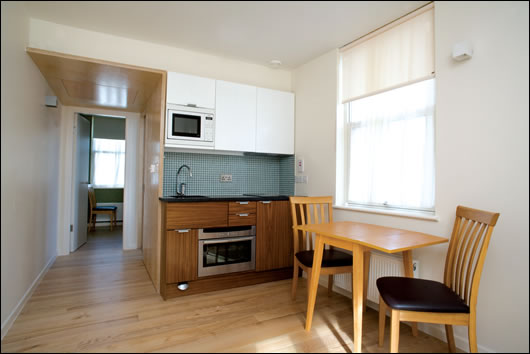 The brick finish is one of the building's crowning achievements, allowing it to fit snugly in the surroundings of Dublin's city centre. The brick works so well that from outside you'd be forgiven for thinking the building is much older than it is – exactly the effect Lowe was going for. He'd like to have salvaged bricks from the original building, but removing the brown tiles would have damaged the brick beneath.


The roof boasts a U-value of 0.97 W/m2K and features 400mm of blown cellulose insulation, installed by contractor John Egan of Cellulose Insulation Ltd. Cellulose typically contains 80 to 85 per cent recycled newspaper content, and is particularly effective at maintaining its thermal performance in high humidity. Because the building is in an architectural conservation area, sash windows were essential to recreate a period look. This meant it wasn't possible to reach the highest levels of thermal performance – the double glazed units have a U-value of 1.7 W/m2K


Viking House sealed the house using air-tight tapes from Siga, taping up all junctions carefully. Taped OSB board in the walls and roof are the principle element of the air-tight layer, which stretches across the ceiling of the ground floor as well as the first. During blower door tests all of the units scored between two and three air changes per hour. As Construct Ireland went to print a second blower door test was planned following further sealing work.


The apartments are heated by individual condensing gas combi boilers, installed by heating efficiency experts Ecosave. The Alpha Heating CDC-25C boilers have a certified efficiency of 90 per cent and an A rating on the Sedbuk (Seasonal efficiency of domestic boilers in the UK) database. The boilers feature a built-in 'seasonality valve' that automatically adjusts the flow of domestic hot water based on the temperature of the incoming main. They feature temperature and hot water controls too, while each apartment also has a thermostat for simple temperature control. Heat is distributed by radiators upstairs and an underfloor heating system downstairs.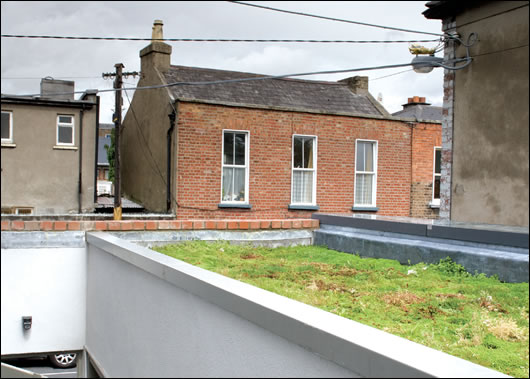 A sedum green roof was installed on top of the meeting room

Each apartment has its own heat recovery ventilation unit too – an MTD ERV140. The unit is registered on Sap Appendix Q and provides a heat recovery efficiency of up to 92 per cent. Lowe designed the building so most services would run in the ceiling space above each apartment, adding to the vertical height of the building but not the floor area. He considered using a passive heat ventilation system, but ruled it out for two reasons: the relative infancy of the technology, and because it would have required vertical ducting that would take up floor space. Installing community ventilation and heating systems for the whole building was also considered, but practical concerns meant it wasn't feasible – some residents may potentially be eligible for free electricity and gas, while others may not, so individual billing was more convenient. St Vincent de Paul were also keen for each resident to have full control over his own heating system too.

 Building Energy Rating assessments were carried out on each of the four apartments – the results ranged from 155 kWh/m2/yr to 173 kWh/m2/yr, C1 ratings. This seems disappointing for a well insulated building, but there's a simple explanation: because the stairway and halls outside the apartments are unheated, they're regarded as a "cold space" when the BER is calculated. This means the heating demand is considered by Deap – the software used to calculate BERs – to be higher than it actually is. The internal walls of the apartments are actually insulated fairly well, with a U-value of 0.28W/m2K and about 100mm of Rockwool insulation. Having individual heating systems in each apartment also adversely effects the BER. Lowe reckons that if the building was treated as a single house and solar thermal panels were installed, the BER would be a B1 at worst.


Carbon dioxide emissions for the apartments, as calculated in Deap, are between 30 and 35 kgCO2/m2/yr. Viking House also calculated the performance of the building using the Passive House Planning Package, the software used to design and test to the passive standard. The calculation produced a figure for specific space heating demand of 56 kWh/m2/yr. The windows and exterior walls were found to be the main sources of heat loss from the building.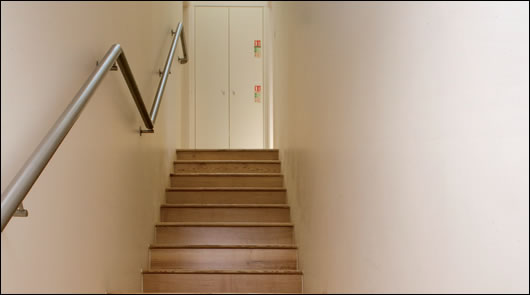 The stairs and hallways are unheated and thus regarded as a "cold space" when the BER is calculated - this means the apartments are considered to have a higher heating demand than they do

To the house's rear, Viking House built a 15 square metre meeting room with the same wall construction as the main building. The room's main feature is a huge glazed sliding door that runs most of its length. "That was about natural light and making the room feel wider," says Lowe. "By having light at the side of the room and dark at the ends, it creates the illusion of a larger space." The room could also potentially house 20 to 25 people for meetings, so a big door makes sense for practical reasons too. The meeting room includes the same boiler as the main building, but a different HRV unit – a Vent Axia HR300, supplied by Lindab. This HRV unit features a motion sensor, so it only comes on when the room is occupied.


Keeping the meeting building low and leaving a gap behind the main building creates a light well that helps to naturally illuminate the interior of the main building. The meeting room is also topped with a sedum green roof, supplied by Moy Materials and installed by KD Roofing. The roof features a sedum mat of about 60mm over 50mm of specially formulated soil.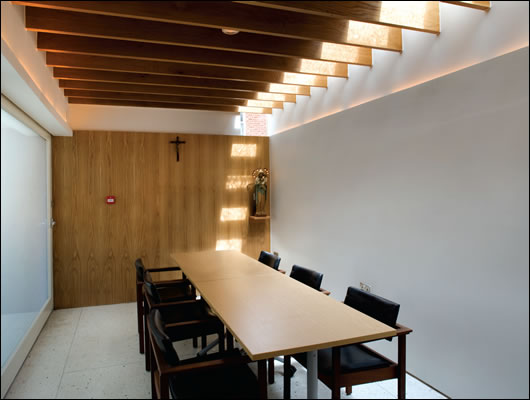 The meeting room has a large glazed sliding door, designed to increase natural light and make the room feel wider

The motivation for the green roof was primarily aesthetic - it'll be much more pleasant for first floor residents in the main building to look down onto greenery than a dull grey roof.


Green roofs are becoming increasingly popular as architects and builders realise they can satisfy some crucial demands: they can soak up rainwater in cities with stressed sewage systems, extend the lifespan of roof components by protecting them from sunlight and rainfall, and provide thermal and acoustic insulation too.

Sedum mats are an example of an extensive green roof – the shallow variety typically designed with biodiversity and aesthetics in mind. Sedum is a type of herbaceous plant that is tolerant of drought and requires little maintenance – generally two visits a year to remove weeds and apply fertiliser. There are about ten different species of sedum planted in a typical mat, and they usually grow to about six to eight inches in height. Lowe says he's interested in using intensive green roofs in future too – these can be up to 300mm deep and provide a medium for growing food.

The finished Primrose Street building is both compact and comfortable, and manages to achieve impressive energy performance and an authentic period look in a tight urban space. "I'm very satisfied with the way it turned out," says Lowe, who believes the building's efficient use of space is one of its triumphs.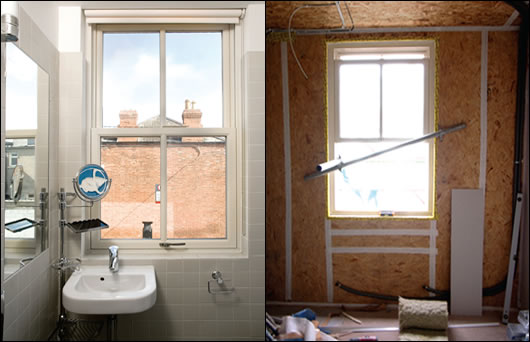 For conservation reasons, sash windows were used to recreate the period look

"There is an incredible economy in the way the small building footprint has been designed in such a compact and efficient way that the quality of the spaces is actually improved through excellent daylight and refined layout of overlapping functions," he wrote in an email to Construct Ireland ."This is a much more ecological and sustainable approach than designing oversized spaces which can often be of a poorer quality in terms of layout, daylight and build standard, while at the same time commanding more resources both during their construction and their operation once occupied. In many ways bigger is not always better."

Lowe set up his firm, Eden Architects, five years ago. "I'm definitely as interested in well functioning buildings as I am beautiful buildings," he says. "The buildings that get celebrated look great but people don't care if they work". Lowe says his designs are based on appropriateness to site, as well as climate, maintenance and how the building will be used, and that Eden's aim is to create spaces that are warm, well-ventilated, draught-free and full of natural light. He's always had an interest in sustainability. "Before I ever did architecture, I was doing projects on solar energy in school."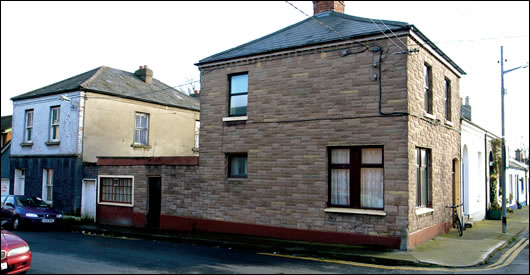 The existing building, clad in unsightly brown tiles, before it was demolished. "It was brutal," architect John-Barry Lowe says

But the Primrose St building was ultimately built for St Vincent De Paul – so what do they think of it? "From our perspective it's brilliant, there's not an inch of space wasted," says the society's Eamon Murray. Indeed, efficient use of space is an aspect of sustainable building that is often overlooked. By making better use of smaller spaces, and utilising clever design so tight spaces seem bigger than they actually are, more can be achieved with less – this means less resources consumed, and less energy used.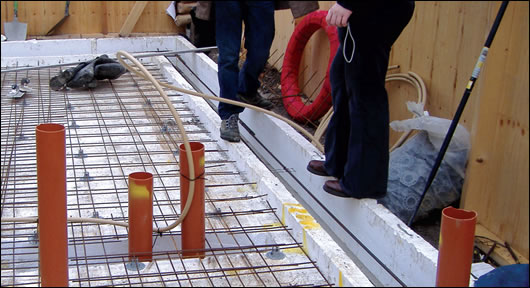 Viking House installed a new foundation system with 300mm of polystyrene insulation. The system is certified by the Passivhaus Institute and eliminates cold bridges between the slab and wall

All four apartments at Primrose Street had just been occupied as Construct Ireland went to print, so it was still too early to gauge the new residents' thoughts. But Murray explains the difference sheltered housing like this can make to someone who has been living on the streets: "We moved one lad into another one of our houses, I dropped in to talk to him and it was lashing rain when I met him. I asked him what he had done for the day and he said he went from coffee shop to coffee shop just to stay out of the rain. Then he suddenly realised – he had his own apartment, he didn't need to do that any more."


Selected project details

Client: St Vincent De Paul Society

Architects: Eden Architects

Main contractor: Viking House

Mechanical contractor: Ecosave

Timber frame: MBC Timber Frame

Sheathing board: Ecological Building Systems

Wall insulation: Rockwool

Roof insulation: Cellulose Insulation

Air-tightness tapes: Siga

Windows & doors: Vrogum

Combi boilers: Euro Heating & Plumbing Supplies

Apartment HRV systems: MTD

Meeting room HRV systems: Lindab

Bricks: Ibstock

Green roof: KD Roofing /Moy Materials

Apartment flooring: Trunk Flooring

Meeting room flooring: Terrazzo Flooring