Jason Walsh
Green giant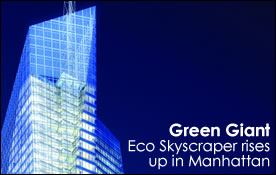 Jason Walsh: How did Cook + Fox come to sustainable architecture? Is this a one- off initiative for a specific client or do environmental concerns underpin all of Cook + Fox's work?

Cook + Fox: Cook + Fox was formed in 2003, when Richard Cook joined his firm, Richard Cook & Associates, with Robert Fox, founding partner of Fox & Fowle Architects. Their combined experience represented extensive work in historic preservation districts as well as with large New York office buildings. With the Bank of America Tower as the firm's first commission, designing beautiful, environmentally responsible buildings became the primary focus of the firm. In the years since designing the Bank of America Tower to be the country's first LEED-Platinum high-rise office building, the firm has worked to integrate green building strategies into all of its projects. We have a firm goal of 100% of our projects becoming LEED certified.

JW: What is the purpose of an 'eco-skyscraper'? There are those who argue that the form is inherently unsustainable while others counterclaim that higher-densities are the only way forward.

C+F: This question frequently comes up when discussing green building and its application to skyscrapers. While it's true that skyscrapers consume a lot of energy and materials, there are substantial environmental benefits to building on a large scale in dense, urban environments such as Midtown Manhattan. The biggest benefit is probably in the area of transportation - a building such as One Bryant Park will be served by one of the best mass-transit systems in the world. Its occupancy will be equivalent to approximately 60 suburban office parks, the kind of development that increases urban sprawl and the car-travel and pollution that go with it. A city such as New York has a surprisingly small energy consumption per capita, thanks in large part to the prevalence of mass transit and multi-family dwellings.

Furthermore, as countries around the world are rapidly urbanizing, finding sustainable patterns of development for cities will become increasingly important.

JW: Is the purpose of the above to mitigate the embodied energy in the building or to create a new, environmentally-sound form?
C+F: Attention was paid to both issues in the design of the building. In regards to reducing embodied energy, examples include purchasing locally-manufactured and recycled materials where possible, and using a specially-mixed cement made from 45% blast furnace slag, an industrial waste product - saving the production of over 56,000 tons of CO2. As a whole, the building systems represent a model that can (and should) be replicated throughout the US, with currently available technology.

JW: Is there more to an eco-skyscraper than energy efficiency?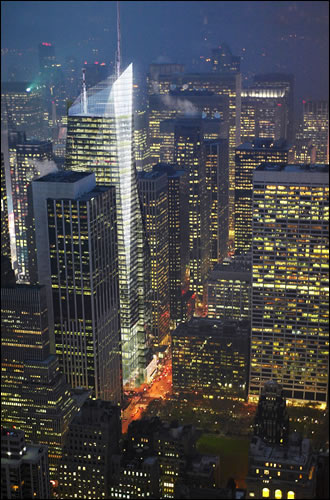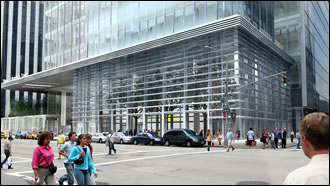 C+F: Yes. One of the most important issues, especially considering that the building will house a bank with thousands of 'knowledge workers', is the indoor environment and its impacts on the health and productivity of occupants. Studies have shown that people function better and tend to be happier in spaces that have ample daylight, excellent air quality, and a connection to the out-of-doors. For the Bank of America, hiring and retaining the best people is extremely important, so creating an unparalleled work environment has been a top priority.

JW: With both Bank of America tower and the Lighthouse in Paris, it seems that the eco-skyscraper is catching on. Do you think this is the case and will it lead to a renaissance in the skyscraper?

C+F: In the last several years, Green has moved into the mainstream of the building industry. Developers, building owners, and tenants require buildings designed for energy efficiency, productivity, and in turn economic sustainability; forecasting the effects of global warming and unstable and rapidly increasing energy costs have become as much a part of the industry as environmental and global responsibility.

JW: Is there not the possibility that the limitations imposed by sustainability are harmful to architecture? How do you balance the competing concerns?

C+F: Yes, it is possible that if architects view sustainability as a straightjacket, the quality of design will suffer. On the contrary, we believe that good design is sustainable design - buildings that are beautiful and give people a sense of health and well-being will be treasured for generations. While environmental performance may be viewed by some as unrelated to design, we think architects have an important responsibility to think about the impact of their work on the larger environment and future generations. Too often, green building strategies are viewed as something to be added-on after a design is complete, which usually results in costly and impractical solutions. Our firm views environmental stewardship as a compelling creative challenge, one that is integral to the design process and can actually improve the quality of design.

JW: Environmentalist activists often rail against business for its attitude to the environment. Does the fact that energy efficient buildings such as Four Times Square and One Bryant Park are being commissioned not mean that they are kicking at an open door?

C+F: Unfortunately, energy efficient buildings are still the exception rather than the rule in the US. There has been great progress in recent years, however, and cities and private developers are starting to embrace the imperative of energy efficiency for buildings. New York City, for example, recently passed a local law requiring green building strategies in all new city-owned buildings of a certain size, and the US Capitol, Washington, DC, will soon require both city-owned and private commercial buildings to meet minimum LEED standards. Apart from government projects, there seems to be a real growing market in green building and related industries, which we see as a very positive trend.

JW: How usual is it for an architect to be concerned about sustainability and energy efficiency today?

C+F: In the building industry, architects and engineers have been quicker to adopt sustainable approaches; the construction industry tends to be slower to change its ways of doing things. The demand for green buildings seems to be growing rapidly, especially as environmental concerns and global warming appear in the media more and more often. As one indicator of the trend, membership in the US Green Building Council, a coalition of building industrial professionals that created the LEED rating system, has risen to 7200 member organizations in just over 10 years.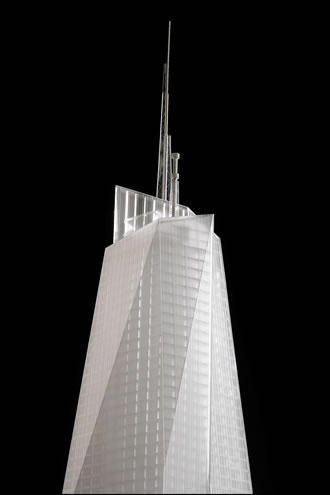 Project
The Bank of America Tower at One Bryant Park
Headquarters for the New York operations of Bank of America and the restored and reconstructed Henry Miller's Theatre


Site Description
At 0.8 hectares/8094 sq m, this is the largest development site in Midtown Manhattan, at 42nd Street and Sixth Avenue, opposite Bryant Park, near Times Square

Architect
Cook + Fox Architects, LLP, New York

Groundbreaking
August 2, 2004

Project Completion
2008

Design Intent
The design is inspired by the famed New York Crystal Palace, the first light metal frame building in America, erected in Bryant Park in 1853, along with cultural influences from New York City's classic skyscrapers.

The design traces the history of the place while representing the city's optimism of its future through the suggestion of the architectural forms.

The design embraces and is specific to the building's unique urban context. The building's base is derived from and enriches the site's complex pedestrian and transit circulation patterns.

The verticality of the building's massing, spiralling up to the tip of the tallest spire, responds to the Midtown Manhattan skyline, while the configuration of the base addresses the local pedestrian and transportation thoroughfares.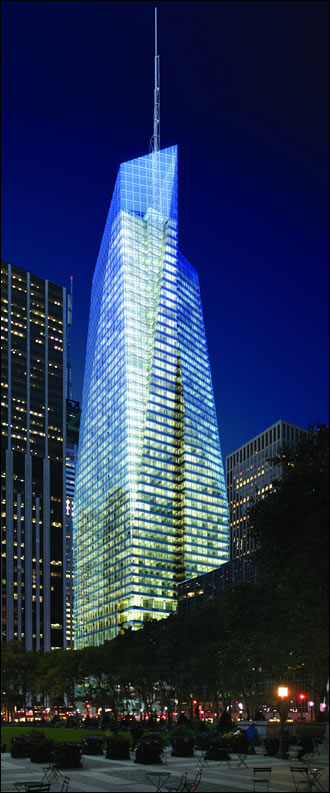 Design Highlights
Crystalline skyscraper

Crystal rises from its base with sculptural facets that infer movement and allow for varied views around the neighbouring towers.

The faceted crystal design is complimented by both the clear glass curtain wall and the tautness of the skin's detail.

Crisp folds and precise vertical lines are animated by the movement of the sun and moon.

The south-facing facet turns to address its prominent relationship with Bryant Park.

Green Features
Building on Cook+Fox's commitment to environmentally responsible architecture, the Bank of America Tower will incorporate innovative, high-performance environmental technologies to promote the health and productivity of tenants, reduce waste and assure environmental sustainability.

Higher ceilings and extremely transparent low iron, low-e insulating glass in floor-to-ceiling windows permit maximum daylight in interior spaces, optimal views and energy efficiency. State-of-the-art onsite 5.1-megawatt combined cycle co-generation plant provides a clean, efficient power source for the building's energy requirements.

Pioneering filtered under-floor displacement air ventilation system and floor-by-floor air handling units allow for individual floor control and more even, efficient, and healthy heating and cooling.

Air filtration removes 95% of particulates, plus ozone and volatile organic compounds (VOCs).

A grey-water system captures and re-uses all rainwater and wastewater, saving 38.9 million litres of water annually.

Waterless urinals, low-flow fixtures, etc. decrease the use of precious resources.



A thermal storage system at cellar level produces ice in the evening when electricity rates are lowest to reduce peak daytime demand loads on the city.

The building also combines:
l recyclable and renewable building materials (steel, slag, drywall)
l green roofs, which reduce the urban heat island effect
l an advanced double-wall technology, which provides remarkable views in and out of building, while dissipating the sun's heat
l carbon dioxide monitors, which automatically adjust the amount of fresh air when necessary
l use of an urban re-development site


Environmental Goals
With One Bryant Park, Cook + Fox aim to create:
l the world's most environmentally responsible high-rise office building, focusing on sustainable sites, water efficiency, indoor environmental quality, and energy and atmosphere
l the first high-rise to strive for U.S. Green Building Council's Leadership in Energy & Environmental Design Platinum designation
l a reduction of potable water consumption by 50%
l zero storm water contribution to the city wastewater system

Building Materials
Steel and concrete superstructure
Glass and aluminium curtainwall
Low VOC materials, recycled and recyclable products

Public Space
l 300% of the public circulation space mandated by as-of-right zoning regulations
l Below-grade pedestrian walk way linking the B, D, F, and V subway lines to Times Square station
l New glass-enclosed Subway entrance at 42nd Street and 6th Avenue
l Through-block public passage way connecting 42nd and 43rd Streets
l Eventually, a mid-block Subway entrance located at 42nd Street and the through-block connection
l Widened sidewalks
l Public street furniture
l Urban Garden Room located at 43rd Street and 6th Avenue, serving as an inviting extension of Bryant Park and Grace Plaza

Dimensions
204,387 sq m
151,427 sq m for Bank of America
52,960 sq m for future tenants above Bank of America space
288 m tall, 55 stories
56,000 tons = 50,802 metric tonnes CO2 not emitted from cement