Jason Walsh
Vorsprung durch Oeko-technik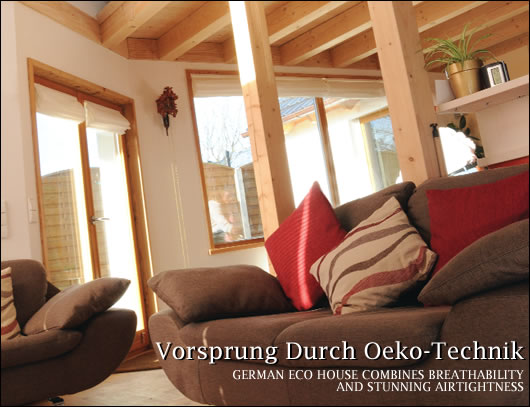 Germany has a reputation for high quality craftsmanship, an attention to detail and a positive attitude to sustainable and healthy housing. Jason Walsh visited a new German-built house in County Dublin to see if the expertise can be exported.
The construction industry in Nordic and Scandinavian Europe is known for one thing: high standards. Take almost any aspect of building that you care to think of, from use of timber frame to air-tightness, from insulation levels to use of natural materials, from building control to on-site workmanship, and countries like Germany and Austria are usually far ahead of Ireland.

It is unsurprising then that the Irish market is seeing more and more energy efficient builders and designers come in from abroad. Names like Oköhaus and Continental Homes will already be familiar to many Construct Ireland readers. Another company to add to the pantheon is Project Oecotop Building Systems, a timber frame design and construction firm very much in the mould of healthy, energy efficient living.

Martin Wetzel, general manager of Project Oecotop, says that he fell in love with Ireland when holidaying here during the 1980s, but noticed that the construction standards were lower than in his native Germany. Now Wetzel spends his time hopping back and forth from Germany bringing continental European construction techniques to Ireland.

Project Oecotop's latest Irish project, their fifth in the country so far, is a two-storey house – essentially a bungalow with an attic designed specifically for habitation – in Malahide, County Dublin. The 235 square metre, detached building is owned by couple Pam O'Donnell and Marcel Laskody. The first-time buyers were certainly adventurous in their decision, particularly given that they were working to a strict budget. Indeed, the house will eventually include four bedrooms, two downstairs and two upstairs, but at present only the ground floor is inhabited due to cost factors. That said, such forward planning is certainly to be applauded as the house can grow to meet their needs without requiring an extension.

"I was always into green buildings," says Marcel, originally from Slovakia, "and when I came to Ireland and started searching we saw About the House with Duncan Stewart.

"I already knew I didn't want to go the conventional route – I was renting a house and it was always cold – so I compared the building processes and materials. These guys weren't the cheapest but we wanted to do it right."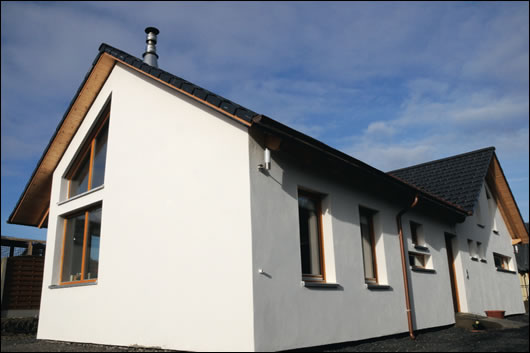 The Malahide house is a mixture of timber frame and timber dovetail construction and was completed within just two months of the start date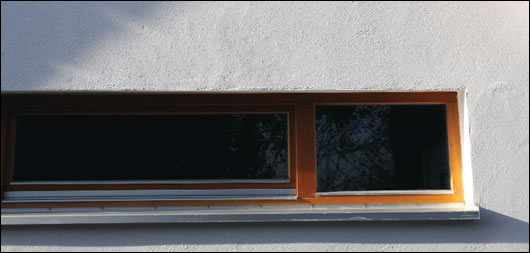 Sun light illuminates the timber of the roof overhang

Marcel's partner was initially more dubious: "I was very sceptical at first and I didn't know much about energy efficiency," says Pam, who is from Malahide but has lived and worked in Britain. However, she was soon won around and doesn't regret the decision to go green: "My aunt built a typical Irish concrete house and there's definitely a difference in terms of the warmth and air-tightness."


Wrapping-up warm
As always the key to getting energy efficiency and comfort right in the home is to ensure that the building fabric is sound.

The construction method used in the Malahide house is a mixture of timber frame and timber dovetail construction with interesting breathable walls. Construction began on 24 July 2007 and was complete by 24 September. The shell of the house was erected in just three days by Project Oecotop's six person team and the roof was closed seven days after that. Just nineteen days later the attic was fully insulated.

It is also insulated entirely with natural materials, specifically cellulose supplied by Germany-based Isofloc. The insulation is of varying depths – 120 millimetres in the floors, 180 millimetres in the walls and 240 millimetres in the roof. The insulation is compressed to 60 kilograms per square metre. The resulting U-values are 0.24 W/m2K in the walls, 0.25 W/m2K in the floor and 0.21 W/m2K in the ceiling.

These figures are certainly acceptable, but not stunning. Current building regulations in Ireland state that a dwelling's ground floor may have a maximum U-value of 0.25 W/m2K, external walls a maximum of 0.27 W/m2K and roofs, depending on construction method, a maximum of between 0.16 and 0.22. It should be noted, however, that use of natural materials does mean making a choice between having ever-thicker insulation or losing out slightly in terms of thermal performance. The Isofloc insulation has a lambda value of 0.04.

Wetzel says that cellulose has an additional benefit over competing natural materials: "Most people care only about the U-value. Well, cellulose is roughly the same as sheep wool and so on, but the heat transfer rate is totally different – it's much slower." This, he claims, means it takes longer for heat to leave the building through the insulation: "You don't need a solid, heavy material to store heat," he says.

Additionally, the windows are double-glazed units made from German larch and fitted with low-e glass. The window U-value is 1.15 W/m2K. All windows and doors are draft sealed.


Breathe in
Where Wetzel's design really does stand out, however, is in air-tightness. DB Plus and Pro Clima products, which are distributed in Ireland by Ecological Building Systems, were used to seal the building.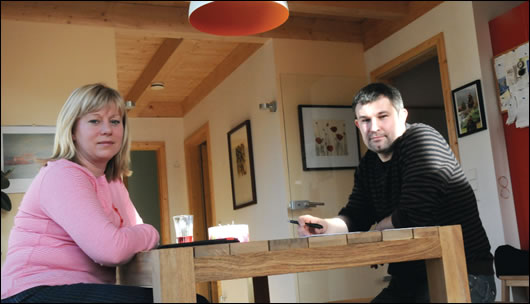 The couple, Pam O'Donnell and Marcel Laskody, at home in their new house

"We used the DB Plus vapour check because it's made out of acid-free paper and I don't like plastic," says Wetzel. "It's installed in the exterior walls and roof. This layer seals a building completely air-tight."

As Wetzel notes, the main raw material used to produce DB Plus is recycled paper which is then strengthened with a reinforcement layer.

As a moisture variable vapour check, DB Plus provides a consistent internal airtight seal for the construction, while reducing the risk of condensation in both humid summer conditions and dry winter conditions. During the summer months DB Plus allows greater diffusion and in winter conditions it permits less, thus protecting the building.

"First it makes the building air-tight and it's the strongest barrier for the damp to get through. After the membrane it's easier for it to go through [and out of the building]." Pro Clima sealing tapes were also used on the project: "They're the best," he says.

For Wetzel, getting dampness out of a building is paramount: "In a typical Irish building the OSB (oriented strand board) blocks the damp from getting out – that's the reason we use soft wood fibre board."

In fact, the wall system used in the house is designed with exactly this in mind. From the timber frame itself outwards one finds a soft wood fibre rain-tight board followed by a 40 by 80 millimetre counterbatten, a 40 millimetre ventilation area, the vapour barrier, a mixed cement fibre board from Heraklith for physical protection and, finally, a concrete plaster render on the outside. The interior of the walls is composed of Fermacell TB Kante gypsum fibre boards covering the counterbatten behind which is the cellulose insulation.

Fermacell is a recycled product and is supplied in Ireland by Richmond Building Products. The multi-purpose building board, often used for drywalling, is manufactured from raw gypsum, cellulose fibres derived from recycled paper and water which are combined to form a homogenous mass, which is then formed into a dense sheet material. One of its properties is an impressive ability to hold weight. Wetzel claims that a shelf held onto Fermacell with just two screws can carry 100 kilograms of weight.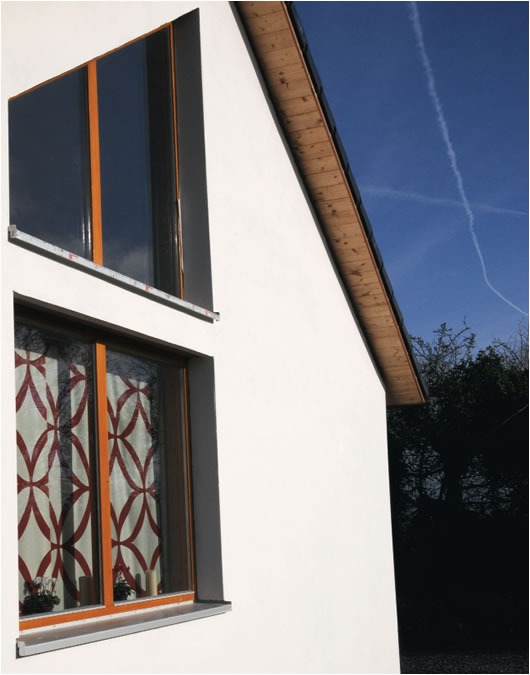 The external walls are finished with Heraklith cement fibre board under a concrete plaster render, and the draft-sealed windows are double-glazed units made from German larch and fitted with low-e glass

There are a total of six solar panels on the roof and during the summer months the water temperature can reach 60 to 80 degrees by means of these panels alone

Unlike the insulation U-values which are good if not staggeringly so, the air-tightness of the building is little short of astonishing. Pat Kyne of PK Energy Controls performed blower door and infra-red tests on the house and was more than impressed with the results. "The house is extremely tight," he says. "I've never seen anything like the results. I de-pressurised and re-pressurised about a dozen times. I had a good look at what they were doing and they'd taped and glued everything down to a T.

"We then set the air pressure to 50 Pascals and went around with an infrared camera. We found one or two small infiltration points [and sealed them] but the amount of leakage was trivial," says Kyne.

"Its whole design is based around good air-tightness. There's enough permeability to allow the building fabric to breathe. My personal opinion is that I would have [also] used heat recovery ventilation – the amount of heat recovered would be very good, for a start, in such a well sealed house."

Kyne was so surprised by what he found out that he re-tested: "I was concerned about the result. I was planning on buying another test kit [anyway] and it had another digital manometer. I used it in parallel [with the original test kit] which proved the result was genuine."

The figures Kyne got were certainly surprising. Air permeability at 50 Pascals is rated at 0.37 m3 per hour per m2 of building envelope area.

In fact, the air tightness figures is so low that it wasn't only Pat Kyne that was surprised, it also caused a lot of discussion and head-scratching among the Construct Ireland team and prompted a series of 'are you sure?' phone calls. As an example of just how surprising the results are consider that the maximum air permeability requirement under the forthcoming revision to Part L is 10 m3 per hour per m2 at 50 Pascals.

Also surprising given the results achieved is the fact that the house is not ventilated, either mechanically or through a complex specialised passive system. Instead it relies on the breathability of the walls which include a 40 millimetre ventilation cavity. It's a concept that Irish designers are bound to have trouble understanding, but that Wetzel insists is accepted as being amongst the highest European standards. A small amount of under-pressure is apparently created in the ventilation cavity. According to Wetzel, moisture passes from the building through the breathable wall make up, whilst oxygen comes in. "Our skin does the same" says Wetzel, who stresses the importance of a fully breathable wall make up for this to be effective. Undoubtedly this is a concept that warrants further investigation.

"We never need mechanical ventilation – we'll offer it to people with really bad allergies or asthma or who live in an industrial area," he says. Wetzel cautions that if ventilation is required for health reason then proper research is used: "Many ventilation systems are made of PVC. PVC is composed of over 600 chemicals."

In fact, for Wetzel, healthy living is a key selling-point: "68 per cent of all allergies in the home in Ireland are created by mould. Ireland has one of the highest rate of allergies in the world."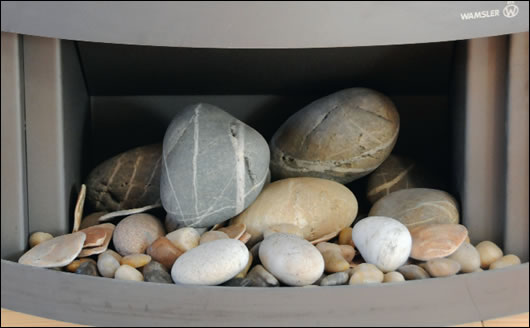 The Wamsler wood pellet stove, together with the solar, feeds a 1000 litre storage tank and a 140 litre expansion tank for water heating


Backing up his assertion, Construct Ireland found a World Health Organisation report that cited a study indicating the prevalence of asthma among 13-14 year old children as being 29.1-32.2% in Ireland and the United Kingdom. In 2007 the now minister for the environment John Gormley claimed there were 470,000 people in Ireland with asthma. A 2007 report in the Irish Examiner, meanwhile, claimed that one in twelve Irish children suffers from allergies.1


Renew, renew, renew
In addition to having good levels of insulation using natural materials and excellent air-tightness results, the house also makes use of renewable energy for space and water heating.

The two systems which work in tandem are a Wamsler wood pellet stove and thermal solar panels on the roof. The stove is rated for a maximum of 10 kW and, together with the solar, feeds a 1,000 litre storage tank and a 140 litre expansion tank: "Enough hot water for 50 showers," says Wetzel. There are a total of six panels on the roof, three south facing and three west facing. During the summer months the water temperature can reach 60 to 80 degrees Celsius by means of the solar panels alone.

The house's projected thermal energy demand is just 34.53 kWh/m2a2 for both space heating and hot water. A passive house has a typical combined energy demand for space heating and domestic hot water of circa 40 kWh/m2a.

In fact, the 34.53 kWh/m2a figure is what is required from the wood pellet system after the contribution of both the thermal solar panels and house's own passive solar gain have been deducted.

"We got this so low by considering the whole house," says Wetzel. "People look only to U-values but in a double-layer concrete house you can have a metre of insulation and end-up with a well-insulated refrigerator. 50 millimetres [of insulation] inside is better than a metre outside.

"Ours is a holistic concept – there are some companies with better U-values than us but [we address] thermal transfer and building physics problems no-one [else] thinks about."



Wetzel also notes breathability as vital: "In our houses moisture goes through the wall and out. In other houses the walls absorb it and then it condenses, rises up and cools the walls."

The solar panels were producing 2.1kW on the day of Construct Ireland's visit – a reasonably cloud-free winter morning in early 2008 – and had produced a total of 0.17MW since installation.

Space heating is provided by both the stove and radiators, somewhat unusually for a sustainable home where other heat distribution techniques such as underfloor heating are common: "Radiators are cheap and convenient," says Wetzel. "With underfloor heating it takes hours to feel a change in temperature [whereas] radiators give a quick change."

The radiators are primed for efficiency, though: "Each one has its own thermal sensor so if one corner of a room is already warm it can adjust to that. We get a very good distribution of heat that way."

If radiators aren't wanted for reasons of aesthetics Oecotop also offers a fast reacting under-wall heating system.

In order to further reduce energy demand the house uses LED lighting rather than incandescent bulbs. All appliances used in the house are at least A rated, many double-A rated and the kitchen includes a passive house Berbel kitchen extractor system, the hood for which was a gift to Pam and Marcel from Project Oecotop.

Additionally, the size and position of the glazing is optimised for passive solar gain and the house is expected to gain 2,219.34 kWh per annum.

Project Oecotop's business manager Wolfgang Weber explains: "I had a critical look at the houses and there are some details I want to make better but the main thing is that the product has a good relationship between the quality and the price."

Pricing is important to Project Oecotop. Although the company is by its own admission not the cheapest on the market, it quotes a final fixed price anything above which the client does not have to pay.

Weber continues: "We're not saying we're perfect. We had some mistakes and problems but we've sorted them out."