Clonakilty eco house
A new house in west Cork offers a green vision for the future of Irish home building: not only is it A-rated, airtight and highly energy efficient, it's built with ecological materials that are manufactured in Ireland too.
If the future of Ireland's economy is going to be green, Cork company Ecocel is a microcosm of how it might look. Not only is the firm manufacturing in Ireland, it's making cellulose insulation — a product that doesn't just save energy and money when installed, but one that's produced from recycled paper.

Originally founded in 2005, Ecocel went out of business in 2007. But the company started manufacturing again earlier this year. Ecocel makes its insulation using waste newspaper discarded by a local printer. "Everything stays in the area," the company's John Egan says. "The paper becomes waste, then it becomes useful, then it saves energy. The embodied energy in our product is very little."

Egan has another idea for collecting paper though — he plans to ask local schools, charities and sports clubs to save their paper and sell it to Ecocel. He's also planning to start collecting waste paper and cardboard from the commercial park where the company's based.

Once the paper arrives at the factory, Ecocel check it for quality and consistency, then shred it, mill it and add fireproofing chemicals. It then goes into a cyclone to remove dust, then it's bagged.

Egan says a common misconception of cellulose is that it's more flammable than other insulation products — but he says the opposite is true. "One thing that needs to be emphasised more is its fireproofness," he says. "You can't burn it."

The company produces about 10 tonnes of cellulose insulation every week. While Egan's priority is to get the Cork factory running as smoothly as possible, he sees potential for Ecocel manufacturing facilities on the east and west coast too. "That way the paper stays where it comes from, and there's more local employment."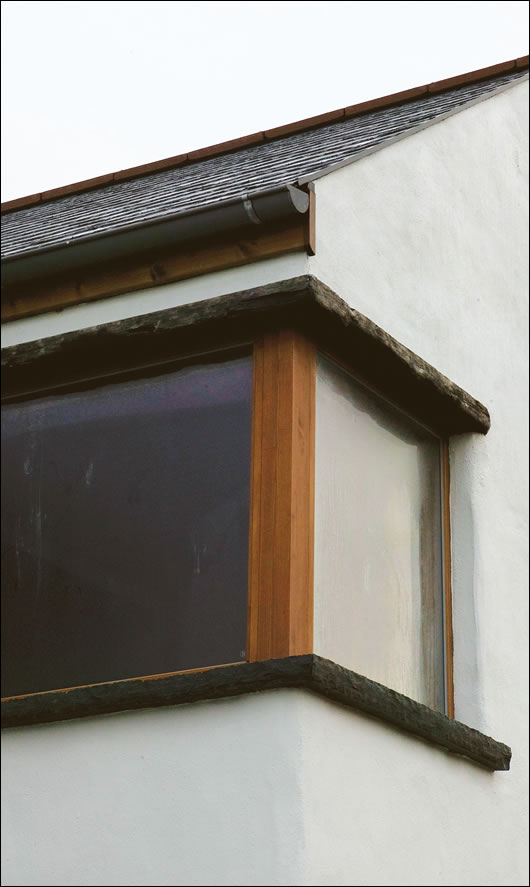 A rounded exterior plaster gives the house a traditional look, and Breda and Pierre plan to use similar finishes inside

Timber frame
The company recently insulated a new seaside timber frame house outside Clonakilty, Co Cork, pump-filling the 200mm timber wall and roof studs with cellulose. Experienced timber framer Tim O'Donovan built the house entirely on site for Breda Cooney and Pierre Rousoux. Construct Ireland profiled O'Donovan's own house last year — the project boasted extraordinary attention to detail and is battling it out with Jer Rynhart's house in Wicklow (see Construct Ireland issue 4 volume 5) for the title of most airtight building in the country. But Breda and Pierre's house isn't far behind.

Once they decided to build, Breda and Pierre started to familiarise themselves with U-values, BERs and the terminology of green building. They considered concrete and poroton (clay) blocks before choosing timber frame.

"I wanted it to be the most energy efficient house I could get. That's why I started getting your magazine," Breda says. "I wanted it to be as natural as possible. I like the whole feel and vibe of wood."

To build the house, O'Donovan used Irish timber supplied by the Murray Timber Group (MTG). The company supplied laser cut, Canadian Lumber Standard (CLS) timber. CLS is a smooth timber standard that originated in Canada but is now popular worldwide. Murray Timber Group is a member of the Forestry Stewardship Council, which certifies forests that meet its criteria for sustainable management.

Some timber frame builders prefer to use slower-growing timber from cold Scandinavian and Baltic countries, but O'Donovan is a big fan of Murray Timber Group's product. "The stuff that's coming out of Murray Timber Group you can't fault," he says. [Irish wood has] a larger grain in the timber because our trees grow quicker, but that doesn't affect the quality."

O'Donovan also specified OSB board from Medite Smartply for the construction — Smartply is owned by Coilte, all its timber is sourced from Irish forests, and the company has full FSC chain of custody certification.

Clonoe Timber supplied the open-web floor truss system used for the house's first floor— it's designed to span wide areas and reduce the need for load bearing walls. Manufacturer ITW Alpine says their truss system eliminates joist shrinkage and twisting, which cause cracked ceilings and squeaky floors. The open-web design also allows for services to run through without the need for drilling holes. "It gives you full access for heat recovery," says Clonoe Timber's Adrian Doyle. "It's a clean and neat space to put all the ducting in."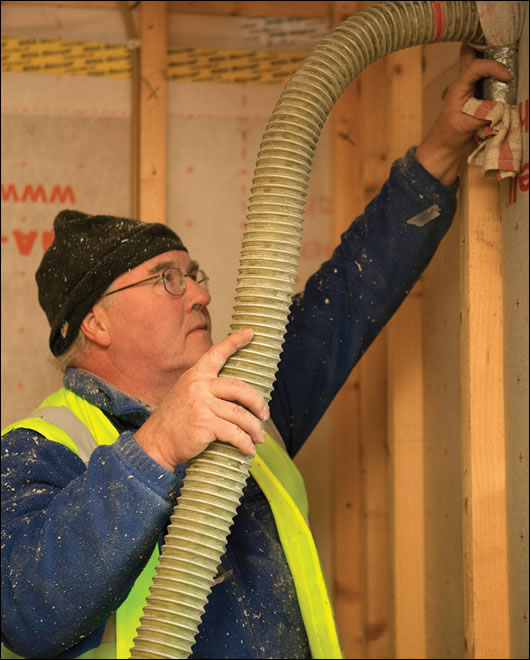 Francis Thoma of Ecocel pump-filled the walls with cellulose insulation, made in Cork from recycled paper that's collected from a local printer

Airtight construction
O'Donovan installed Siga wind tightness tapes and membranes on the outside of the timber frame system, with the Siga airtightness system on the inside. The wind tight system prevents wind penetrating from outside, while the airtight system seals the inside of the construction. "Siga sticks to everything," he says.

O'Donovan was aiming for a rather extraordinary feat — to reduce the house's air leakage to absolutely nothing. He hoped to achieve this on the last airtightness test, but it produced a result of 0.26 air changes per hour.

"We checked every last bit of the envelope and it was 100%," he says. "I put so much attention to the detail of the building." This is still one of the best results Construct Ireland has ever seen. Most of the remaining leakage is around some sliding doors, which O'Donovan says will be adjusted. "In my experience sliding doors and sash windows just never seal, they're just not airtight," says Mark Shirley of 2eva.ie, who performed the test.

XD Consulting's Xavier Dubuisson — who carried out a provisional BER assessment — says the house would have got a low B1 rating if its airtightness had only met the minimum requirement in the building regulations. Instead it got an A3. "For me that's one of the most interesting aspects of the project," Dubuisson says. "I think the fact it achieves such a good level of airtightness brings it into the A3 category."

Being so airtight, it was crucial for the house to have proper ventilation, so O'Donovan specified an Aldes Dee Fly heat recovery ventilation unit. The system has a constant airflow, which users set via a controller. 'Wet' rooms such as bathrooms and utilities have humidity-controlled extract grilles that automatically remove more air as humidity rises, allowing for a location-specific boost to the rate of ventilation. A remote control allows users to boost the speed of the central fan, and thus the overall rate of ventilation — particularly useful when cooking.

Aldes provide the full HRV system, including ducting and grilles. The Dee Fly has a heat exchange efficiency of 85% according to the independent Sap Appendix Q database, but Aldes's Alex Credoz says Sap Appendix Q only u tests the efficiency of the fan and the heat exchanger rather than the whole ventilation system — and he says the higher the efficiency of the fan, the less control there is over air flow.

"We offer a plug and play system where you have constant air flow fans and self-balanced extract grilles," he says. "Tiny details make the system more efficient." He says that while many supply grilles must be placed in the middle of the room to ensure adequate air distribution, Aldes's can swivel and can thus "be hidden just above the door and offer better air mixing in the room".

The Window & Door Store in Cork supplied the house's Viking windows — they're double-glazed, argon-filled and have an overall U-value of 1.4 W/m2K. Most glazing is on the south west facade, which helps to maximise solar gain.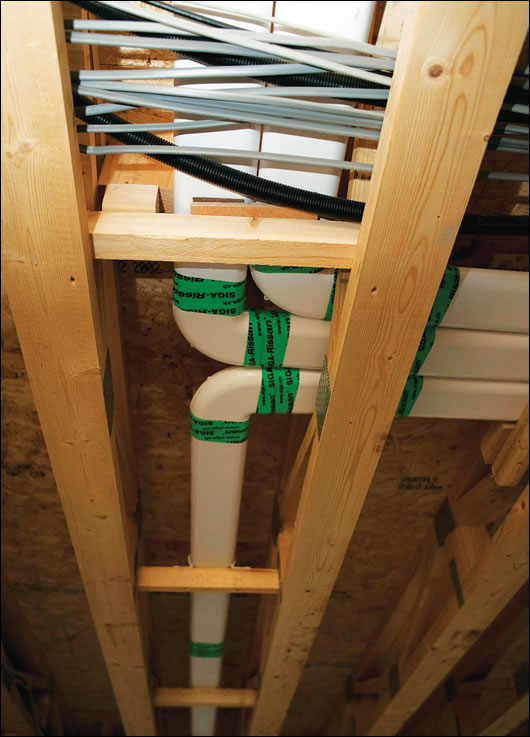 The house's open-web floor truss system provides a clean and neat space to run services such as heat recovery ventilation duct runs and electrics

O'Donovan also installed six square metres of Gasokol TopSol solar panels, supplied by Universal Solar. Breda and Pierre had yet to decide on their main heating system as Construct Ireland went to print, but Breda expects their demand for heat to be so low she'll happily install an oil boiler. O'Donovan installed underfloor heating pipes downstairs with a few radiators upstairs.

Traditional design
Breda and Pierre didn't just want an energy efficient, ecological house though — they wanted one that would sit snugly in the west Cork landscape too.

"The brief was really to design a house that took advantage of the views and the context of the site and the vernacular feel of West Cork farmhouses," says project architect Eugene O'Rea, of Platform Architecture. The dwelling is divided into two blocks sitting at angles to each other. "It's that whole idea of a main farmhouse with outbuildings," he says.

O'Rea designed the living spaces on the first floor, with the bedrooms downstairs. This not only offers sea views from the main rooms, it helps to save energy too — warm air naturally rises, meaning it will be directed to the living spaces upstairs, which typically need to be heated to a higher temperature than bedrooms.

To create a traditional look, Breda wanted soft, round finishes outside."What we wanted to do was to blend the old with the new," she says.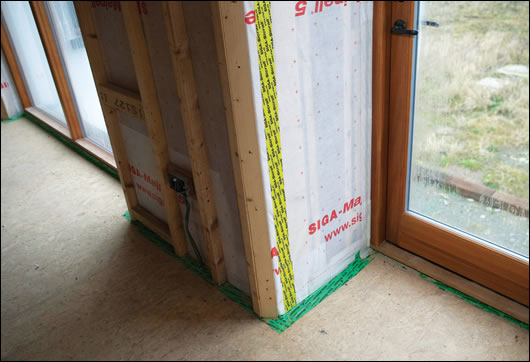 O'Donovan installed Siga airtightness tapes and membranes on the inside of the timber frame system, with windtightness tapes on the outside

A neighbour unwittingly suggested the couple's plasterer had done a shoddy job because he hadn't produced an even finish — but that's exactly what the couple didn't want. "The corners are all rounded and are rounded into the windows as well…it's not what you'd normally expect," Breda says. They plan to use similar finishes inside too.

O'Donovan demolished an existing house on the site before building the new one — all concrete from the house was thrown into a mobile crusher, which produced concrete chips for surfaces around the house. "We had perfectly good recycled concrete that we could use, so why not use it?" he says. He installed Ecostar slates for the roof — produced in the US, the slates are made from post-industrial recycled rubber and plastic.

Breda says she hired O'Donovan because he was offering to do the entire project — everything from the foundations through to fitting the kitchens. The couple are planning to move in by the end of the year — O'Donovan is currently working on the project one day a week — and she's happy for him to take his time.

Breda praises his attention to detail. "The eye for detail that he has is really good, and he really understood what we were trying to achieve," she says.

"The number of people that came to me and said I can't believe your site, it is so clean, it's unbelievable. And that is Tim, meticulous to the last detail."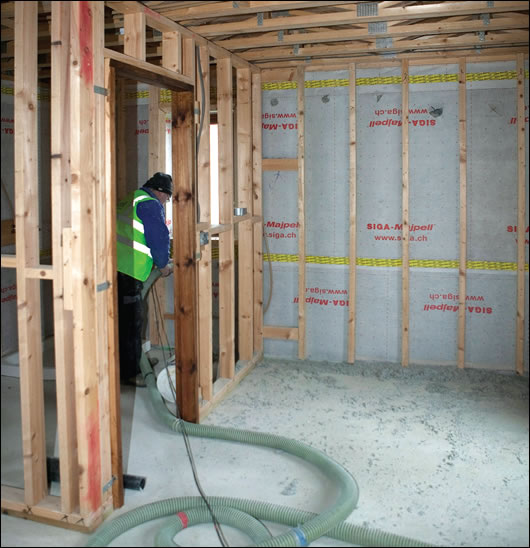 The blower door test produced a superb result of 0.26 air changes per hour

Selected project details
Contractor: Tim O'Donovan
Architect: Platform Architecture
Cellulose insulation: Ecocel
Solar thermal panels: Universal Solar
Heat recovery ventilation: Aldes
Windows: Window & Door Store
Timber: Murray Timber Group
Roof slates: Ecostar
OSB board: Smartply
Airtight and wind tight products: Siga
Airtightness test: 2eva.ie
BER assessment: XD Consulting
Low carbon cement: Ecocem
Central vacuum system: Beam



Project overview:
Location: Castlefreke, Clonakilty, Co Cork

Building: 264m2, two-storey stick-built timber frame

BER: A3 (63.48 kWh/m2/yr)

Carbon dioxide emissions rating: 14.45 KgCO2/m2/yr

Airtightness: 0.26 air changes per hour at 50 Pa

Walls: Concrete block externally, followed inside by a counter-battened cavity, 15mm Smartply OSB board, Siga Majcoat wind-tight membrane, 200mm Ecocel-filled stud, 15mm Siga Majpell airtight membrane, 50mm service cavity, 12mm Smartply, plasterboard, plasterboard. U-value: 0.21 W/m2K

Roof: Ecostar slates externally, followed underneath by counter-battened cavity, 15mm Smartply OSB board, Siga Majcoat wind tight membrane, 200mm Ecocel-filled stud, 15mm Smartply OSB board, 50mm Rockwool-insulated service cavity, 12mm Smartply, plasterboard. U-value: 0.17 W/m2K

Ground floor: Strip foundation using Ecocem cement with 150mm Xtratherm rigid insulation, with 50mm Xtratherm strip around the perimeter. U-value: 0.13 W/m2K.

Windows: Double-glazed timber Viking windows, argon filled, low e glass. Overall U-value: 1.4 W/m2K.

Heating: 6m2 Gasokol flat plate solar thermal collectors; main heat source to be confirmed.

Ventilation: Aldes Dee Fly heat recovery ventilation system

Green materials: FSC certified timber and OSB, low carbon cement, recycled concrete, cellulose insulation