Jason Walsh
Natural selection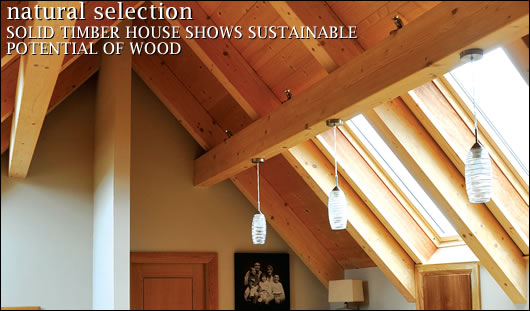 In the last decade timber has come to be seen one of the leading sustainable building materials, primarily through the growth of the timber frame market. Jason Walsh visited County Wexford to look at a growing use for the material – solid timber construction
Over the past five years Construct Ireland has shown time and again that far from being defined entirely by low-quality housing developed with a 'cookie-cutter' mentality, Ireland is in fact home to many innovative and interesting homes that test the boundaries of sustainability, architectural design and building techniques. True, many of these houses are one-off self-build projects, that are driven by their owners' unfaltering interest in sustainability and are often built by continental Europe-based housing manufacturers, but that doesn't mean that such dwellings are any the less for it.

One such project is nestled in the Wexford countryside, a solid timber house that mixes the traditional with energy saving innovations to make a green statement par excellence.

The house, named Larchwood Lodge, is owned by John and Carol Daly and is home to them and their three children. A 305 square metre, five bedroom, three bathroom, detached house set in its own grounds, Larchwood Lodge was completed in February 2007.

Although located in a quiet, rural area the house, once approached, is striking. The west-facing main elevation, completely clad in timber and designed in central European-style, is a sight to behold: timber-built and timber-clad, it looks like absolutely nothing else in the area. So much so, in fact, that it's something of a surprise that it passed the planning stages without any problems – not because the house is in any way unattractive, but simply because of the inherent conservatism of Irish planning authorities.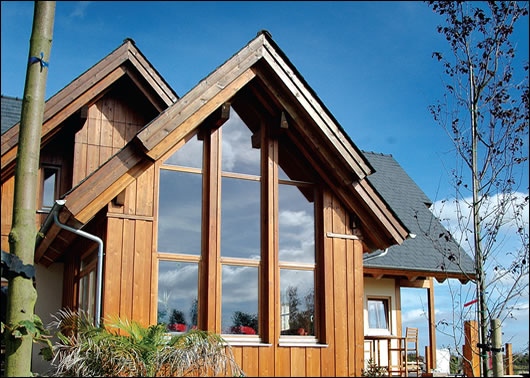 The view of the sunroom from the garden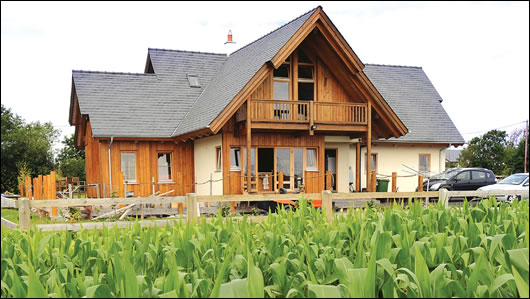 The rear-view of the house

"The council in Wexford seem to be open to eco-designs – there are log cabins and other unusual designs around," said John Daly.

"We in Ireland don't have a heritage of building with wood. When you mention to people foreign companies they can be sceptical. Slovenia is the second most forested country in the world after Finland," he said.

Interestingly, Larchwood Lodge is not the first self-build project the Dalys have undertaken. "This is our second self-build," said John Daly, who explains that the family not only learnt a tremendous amount from their previous experiences but that their decision to move was driven by quality of life issues: "We had a couple of lifestyle issues – we decided to move down here for the children." The Dalys' previous house was a timber frame dwelling built six kilometres from Naas, County Kildare.

"Now there are a few dozen timber frame systems but back then there was much less choice," said John. "Basically, we decided to move again and to look at timber frame or anything similar."

"The last timber frame house worked well for us," said Carol Daly. "Like everything eco, it comes down to cost and finance."

The Dalys' attraction to timber is two-fold: first of all, they have a love of the properties of the material itself: "I have a background in carpentry a long time ago and I love wood," said John.

Secondly, however, the family had less than perfect experiences with blockwork dwellings: "Both of the cavity wall houses we lived in previous to the timber frame [in County Kildare] were hard to heat," said John "Even that far back we were looking for a better standard of living.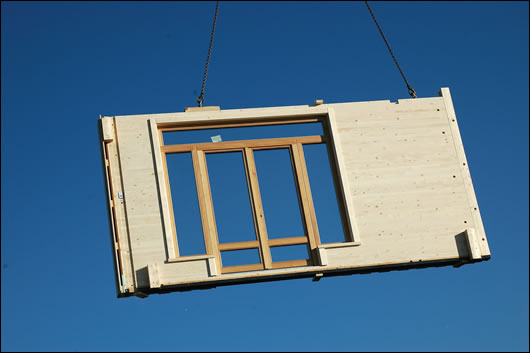 A section of the Glulam wall and doors been hoisted into place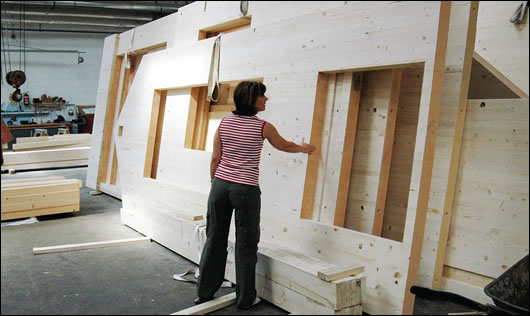 Carol Daly examining solid wood walls at the Riko factory in Slovenia

"It wasn't that we specifically wanted a fully wooden house, we just wanted something that improved on the [previous] timber frame."

During the early stages of planning, the Dalys encountered one side of the Irish construction industry that will remain unlamented as the economic climate changes, namely lack of interest: "We sent out fifteen to eighteen sets of plans. If five replied we'd have been lucky. It was indicative of the Irish building market at the time – they didn't want our business."

This lack of interest on the part of Irish builders was a positive boon for the company that the Dalys eventually settled upon, Slovenia's Riko.

"One of the main reasons we went with the system was the quality. Secondly, as it's prefabricated it takes a lot of labour off us." John Daly said.

It was at a building exhibition at Dublin's RDS that John first met with Lignum, Riko's sole Irish reseller. He was impressed with the wall section on show, so the family took a long weekend in Slovenia to find out more about the system: "The sales manager met us out there and took us to the factory and to view some houses, both in the process of being built and completed ones," he explained.

The system house
"At present the Riko system is not common in Ireland" said Lignum's Marin Bradvica.

"Solid timber houses are relatively common in the rest of Europe and are ideal for today's self-builder because they are sustainable in terms of embodied energy, energy use and the composition of the building materials. Every Riko house is unique in design.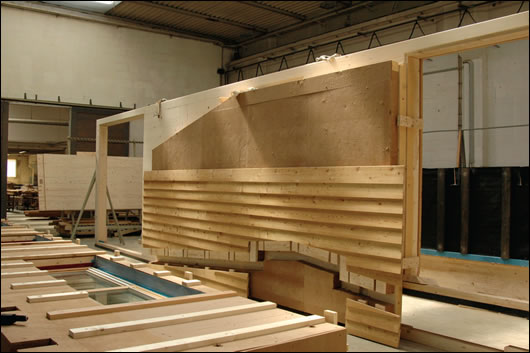 A large wall panel in the Riko factory displaying its wood fibre insulated interior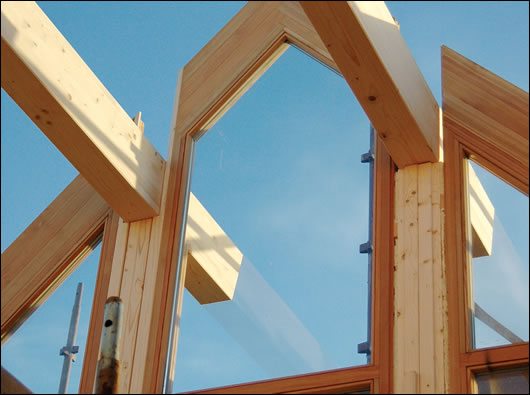 With the Riko construction system, the windows are pre-fitted in the factory

"Healthy living is the key advantage – they're very pleasant to live in," said Bradvica. The Riko construction system differs significantly from both conventional timber frame and blockwork building methods. It mixes traditional materials with precision engineering. The overall structure of the building is made of 100mm load bearing massive, glue-laminated and technically dry spruce wood, followed by compressed wood-fibre insulation fixed on the outside and finished with choice of silikat renders, timber cladding, stone or any other preferred finish. The interior of the house may then be enriched with natural coatings such as coloured plant oils, waxes and resins.

This construction method makes for both solidity and good thermal performance.

Bradvica also pointed out that the structure remains breathable: "There's no plastic foil in the wall, the insulation is compressed wood-fibre."

"People ask do we not use heat-recovery ventilation," said John Daly, "and we don't because of, firstly, cost, but also we found that the wood wall system and wood-fibre insulation is totally breathable. There's no OSB, no plastic. It's never stuffy."

As noted, in the case of the Daly's home, Larchwood Lodge, the insulation material used is wood-fibre.

The external, solid timber walls achieve a U-value of 0.25 W/m2K.

The upstairs floor contains 32 millimetres of floorboarding, a vapour barrier, 100 millimetres of insulation, a 50 millimetre screed and a 22 millimetre engineered wooden floor.

The roof is insulated with 125 mm of Xtratherm insulation, achieving a U-value of 0.17 W/m2K.

The glazing U-value, meanwhile, is 1.1 W/m2K while the window units as a whole achieve 1.3 W/m2K.

The Riko system is an award-winner, having won 'Best Off-Site' timber building in London in the 2007 Wood Awards as well as being a finalist in the 2007 Grand Designs awards.

Lamentably, air-tightness test results are not available for Larchwood Lodge due to it being constructed before they were mandatory: "We didn't do a blower-door test so we can only guess, but it is pretty air-tight. They have to be." said Bradvica. Foerch sealing tape was used between the timber joints to seal any gaps.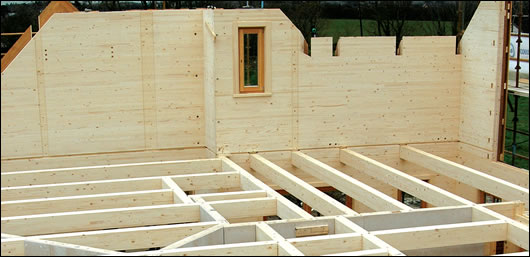 Virtually the entire structure is solid timber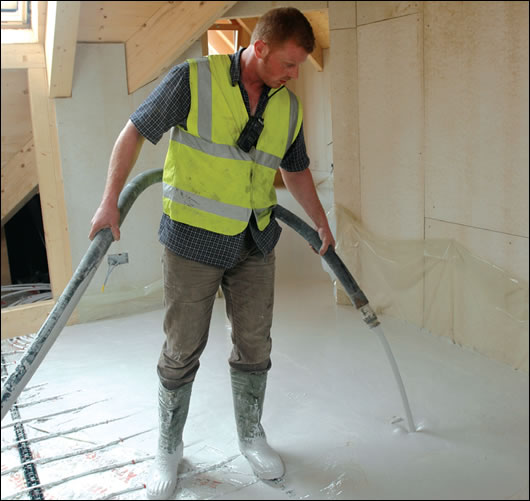 The space heating is distributed by an underfloor heating system, with the piping laid as shown here in the master bedroom

Overall, the house's design and manufacturing are intended to result in a low-energy home: "The passive house standard can be achieved with our system if more insulation is used," said Bradvica.

The construction period is remarkably short – this house was erected and weather-proofed in two weeks, with delivery occurring two months after the order was signed-off, but that isn't the only benefit to prefabrication: "Obviously manufactured housing is advantageous – for a start, all of the things are agreed beforehand. It's a very quick process [as] there's no drying time required for the walls and you have factory quality control – there are no mistakes made."

As would be expected with a predominantly timber house, use of natural materials was paramount. All of the timber used in Larchwood Lodge, and indeed all Riko houses, is Forest Stewardship Council (FSC) certified.

"Visually we used larch as cladding but the main construction element is a glulam bonded wall and it's made from spruce," said Bradvica.

"The timber can be painted with natural coatings such as oils, waxes and resins. There's no point in using varnish as you should leave the wood in its breathable state."

Bradvica also points out that not only are the materials used inherently sustainable, but he encourages the consideration of sustainability as a holistic issue: "I recommend renewable energy for the houses but it's the client's decision ultimately," he said. "The fact is, however, that you don't need much to heat this house. It's a low energy house."

It is also worth nothing that, despite being manufactured from timber, the house is fire-safe due to the density of the material.

Low energy, high comfort
Of course, as always energy production is as important a piece of the puzzle as the reduction of energy loss and use of sustainable materials. An 'eco house' heated by oil may be better than a typical house but it would be a strange decision to make. The Dalys decided on using a heat pump for their space and water heating needs.

"Because we had so much land we wanted a ground source heat pump but we discovered the soil wasn't right for it. We had to find something else – in the last house we had oil and we certainly didn't want to go with that," said John Daly.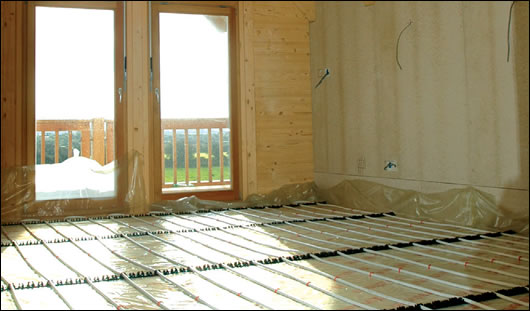 The pipes are covered with a 50 mm gypsum screed which strikes a balance between heat retention and quick response

In the end the Dalys went with an air-to-water heat pump supplied and installed by Pure Renewable Energy Ltd., based in New Ross, County Wexford.

Ollie McPhillips, Pure Renewable Energy's managing director, explained that the company supplies a range of renewable energy systems including heat pumps, both thermal and photovoltaic solar panels, heat recovery ventilation and wind turbines.

"We found that the ground around [Larchwood Lodge] wasn't suitable for a ground source heat pump so we gave them the option of an air-to-water system and they went with it," said McPhillips.

The system used was a Dimplex LA16 air-to-water system with a coefficient of performance (CoP) of 3.4.

"It takes five degrees [Celsius] from the air. There's a compressor and refrigerant gas – it's like a fridge in reverse.

"It heats the water to 47 degrees Celsius. I've had one in my own house for five years. Originally when I built it six years ago I put in oil and subsequently converted it." McPhillips says he hasn't looked back since.

The system further eliminates heat loss by making use of pre-insulated piping – Calpex oxygen barrier pipes with foam insulation.

The system feeds a 400 litre hot water tank and a 200 litre buffer vessel.

"The supply and installation of the system was about e13,000. No other space or water heating was required for the house. It's running at 3.8 kWh." said McPhillips.

Pure Renewable Energy, an agent for Dimplex covering the South East from Dublin to Cork, has found that the company's work is a 50-50 split between developer-led work and self-builders: "People are now looking at heat pumps in commercial buildings in a big way," said McPhillips. "Dimplex is really getting behind renewables – they're now moving into solar thermal and we ourselves are doing PV panels with Coolpower for the Limerick County Council offices."

According to McPhillips, in the past air-to-water heat pumps have been seen as a niche product: "Up to now people wouldn't believe that you could heat your house and all of your water from an air-to-water heat pump [but] Dimplex's unit is big enough to heat the house".

The space heating is distributed by an under-floor system: "They wanted to know what was the most efficient system and liked the idea of underfloor heating."

McPhillips, who also owns and operates Ollie McPhillips Ltd., a plumbing contractor, has plenty of experience with underfloor heating and the Dalys were more than happy with the result: "They were very efficient, very professional and very good to work with. They installed the heat pump and the plumbing," said Carol Daly.

Home comforts
The combination of a renewable energy heating system, underfloor heat distribution, good insulation and a timber structure certainly makes for a comfortable home: "The ambient temperature, the way the wood conducts heat – this house is never cold," said Carol Daly.

In fact, the family doesn't use the space heating system at all from April to October, but when it is used heat is distributed evenly and at a low temperature. The underfloor heating pipes are located in a 50 millimetre gypsum screed, both upstairs and downstairs.


According to John Daly the screed – Levelrock, supplied by Greenspan in Limerick – has performed perfectly and the joists carry the weight without problem: "It dried within two hours and it heats quickly and holds the heat," he said.

Carol adds that the system is almost infinitely more responsive than that in the family's previous home: "We had underfloor heating in the last house. It took three hours to heat up and then it was often too hot," she said. "This house is almost constantly twenty degrees [Celsius]."

The house uses a range of other materials to finish it off – larch windows supplied by Inles via Lignum, natural Spanish slate for the roof, an Anki prefabricated, insulated chimney connected to a glass fronted – and unused – stove and Lindab Swedish steel gutters sourced by John Daly himself.

LED lighting is used in various rooms throughout the house, including in bathrooms, while natural lighting is maximised.

Interior doors are finished in oak with a walnut inlay.

All-in-all the Dalys attempted to make as few compromises as possible and have ended-up with a natural, sustainable home that is as far as can be from the hair-shirted eco-dwelling of the popular imagination. In short, it's all about quality.
"We could have built cheaper but it would have been an inferior product," said John. "A good time to see a Riko House is during construction – you can really see the quality of the work then."



Selected project details

Clients: John and Carol Daly

Contractors/build system: Lignum Homes/Riko

Heat pump/underfloor: Pure Renewable
Energy Systems Ltd.

Floor screed: Greenspan